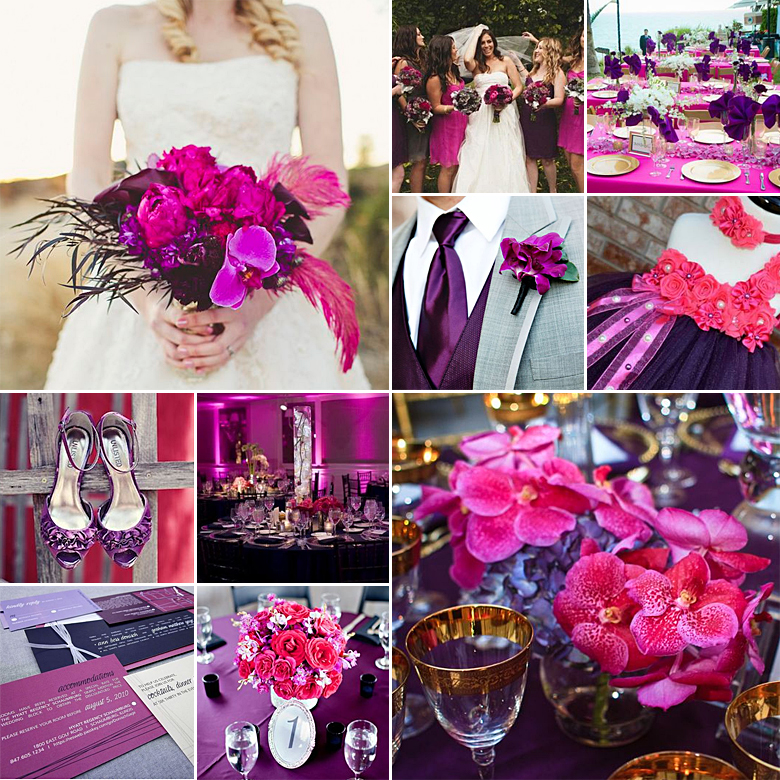 You want pink, but hubby says it's just way too girly. Well, this lovely colour scheme is the perfect go-between, striking a beautiful balance between overly feminine and oh-so masculine. Make no mistake – this theme is all about the drama and the sparkle – so don't hold back!
Dress your bridesmaids in deep purple, and complete their ensembles with splashes of bright pink.
Go wild with coloured hair! Turn strands of your up-do into pink and purple twirls for extra effect.
Drape the guest tables in deep purple, and finish it off with pink glassware and flowers.
If you consider yourself quite the diva, forget white wedding gowns and opt for something with colour.
Bathe the venue in purple and pink lighting to really set the mood.
Invest in a stylish aubergine coloured suit for your handsome hubby-to-be.
Sprinkle pink and purple glitter down the length of the tables, or better yet – opt for sequined  runners!
Serve a variety of pink and purple drinks and milkshakes – oh so yum!
Feathers are an absolute must! Colour ostrich and duck feathers in your theme colours, and use it in your bouquet to add to the opulence.
Original images and their credits available Pinterest