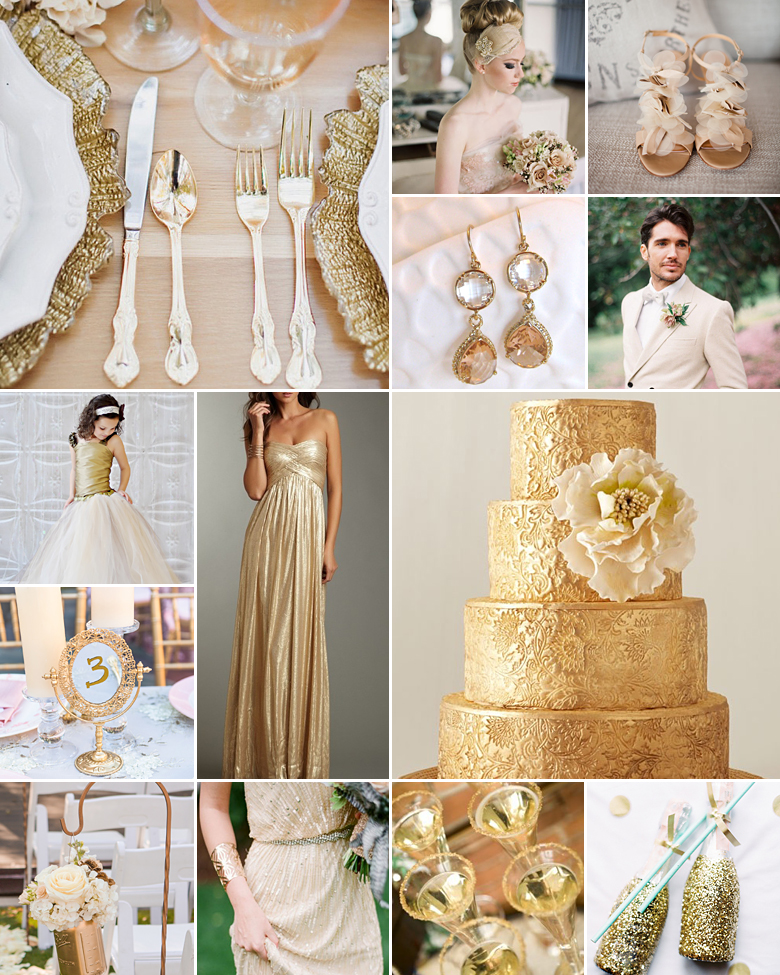 There is nothing quite as luxuriously elegant as a rich champagne gold. It creates an atmosphere of grandeur and a feeling of exclusivity. This is just the right ambience for brides and grooms wanting to have a tasteful, but very elegant wedding.
Gold is a fairly easy colour to implement, but champagne gold is a specific shade. This is a very light shade of gold with a grey-brown base; not as yellow and vibrant as generic gold. It is vital that you maintain this shade throughout the major items of your attire and décor; otherwise your theme will become weakened by the many different shades of gold.  Accenting it with small amounts of yellow gold, however, is appropriate.
To implement this colour scheme, consider the following suggestions and ideas:
Wear a champagne-coloured wedding dress with a matching veil or fascinator (not a white one). Alternatively, a white wedding dress with a small amount of gold beading and a pair of champagne-coloured shoes will also look beautiful.
Opt for gold-based cosmetic products, including a bronzer instead of pink-based rouge. This will also make you, as the bride, look radiant, natural and healthy.
Spray a small amount of gold glitter onto your hair once it has been styled to make it shimmer in the light.
Accessorise with matt-gold jewellery.
Use gold underplates with white crockery and table décor to bring in touches of bling here and there.
Stick to white flowers and add gold-sprayed twigs or a champagne-coloured streamer between and amongst these.
Serve roast butternut, gold-dusted chocolate, saffron-infused sauce on scallops, honeyed peaches and the like.
Original images and their credits available on Pinterest