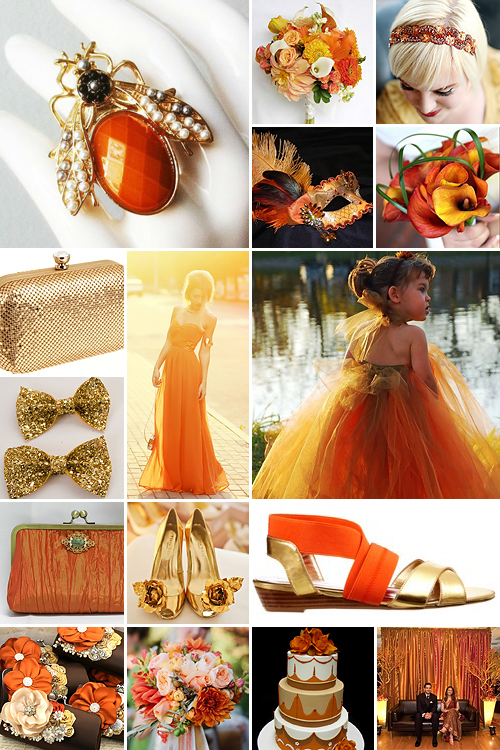 Orange has and probably will always be one of those colours that the majority of wedding planners and fashion gurus have love-hate relationship with. However, when paired with a perfect and breath-taking accent colour such as gold, you simply cannot help but say "ah, LOVE".
For starters, this colour scheme breaks away from orange-orange to burnt orange that has a slight earthy feel to it. Pair it with gold, and you have a diva-meets-artist ambience that's just too lovely for words.
While white is generally the base colour of choice among brides, we'd definitely recommend exchanging it for a warmer shade of cream or ivory in this case, as it will ultimately blend better with your theme colours. If you regard yourself as more of an earthy chick than a Hollywood princess, consider adding hints of copper and bronze for a theme that truly embodies the richness and radiance of autumn.
So, let's heat up the gold and orange crock pot and get bubbling with ideas:
Use grapefruit and oranges in your centre pieces, or as place settings and edible decoration in and around the wedding venue.
Arrange burnt orange roses, tiger lilies, hibiscus, marigolds, dahlias or tulips in a gold-tinted vase, or wrap the base of your bouquet in gold fabric or ribbon.
We really adore the new coloured and decorated glassware trend, so adorn your table with burnt orange wine glasses or clear crystal ware with golden rims.
Use plenty of burnt orange terracotta, whether it be in the form of flower pots, guest favour planter pots or organic serving plates.
Create a striking burnt orange and white candy table and round it off with pure luxury in the form of gold-wrapped treats such as Ferero Rocher chocolates.
Decorate your wedding cake with orange fondant flowers, as well as gold cake glitter and interesting cake jewellery such as lace and vintage brooches.
Set the mood with warm orange-tinted lighting or candles by the dozen.
Nothing says "burnt orange" quite like a proudly South African fire, so if you're having your reception outside or chosen a venue with a fireplace, be sure to light the braai.
For more ideas on Gold and Burnt Orange Weddings or to check out the original photos displayed above and their credits, make sure to check out our Gold and Burnt Orange Weddings Pinterest board!