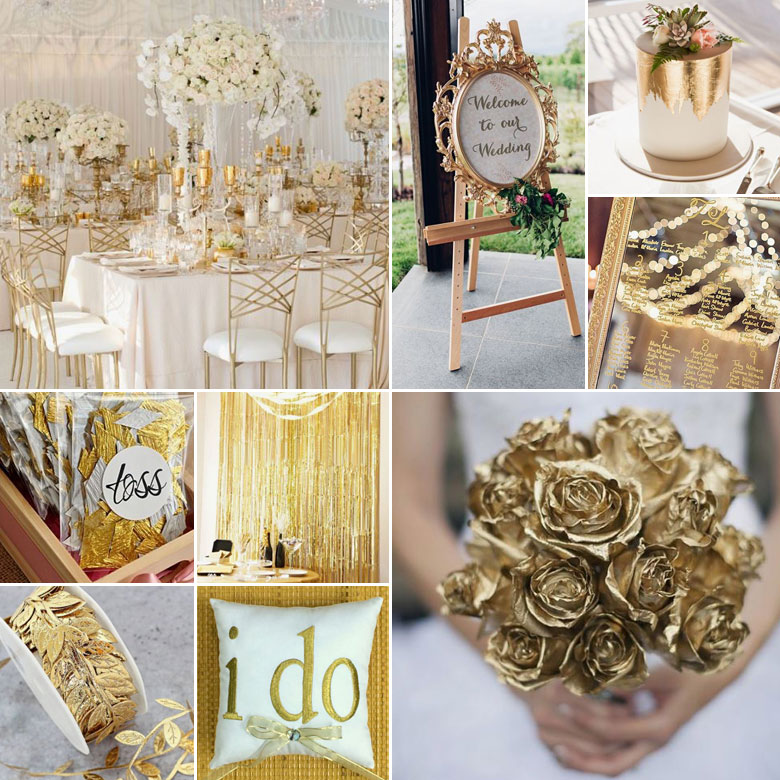 Gold… synonymous with opulence, magic and luxury – all the elements of a wow wedding! Gold comes in many different shades and colours, and there are so many ways to coat your big day in this shimmering colour.
We're virtually obsessed with glitter gowns at the moment, whether it's wedding dresses or bridesmaid gowns. Think top to toe gold glitter, or intricate gold patterns crisscrossing across your dress. Alternatively complete your white ensemble with a pair of gold shoes!
In terms of décor, the options are endless! Switch your ordinary white chairs for gold seats, and cover the tables in floor-length gold table cloths. You can also decorate the tables with gold vases, opt for plates with gold trim, and serve bubbly in gold rimmed glasses.
Next there are the stationery items. Here you can choose to go the glitter paper route or opt for gold foiling – a trend that's growing by the day. The foiling style can also be applied to your wedding cake, along with edible cake glitter and golden cake toppers.
While you don't necessarily get gold flowers, who's to say you can't add your own touch of gold to bouquets and floral arrangements? Simply pick a strong foliage and cover it in gold paint – easy peasy!
Original images and their credits available on Pinterest