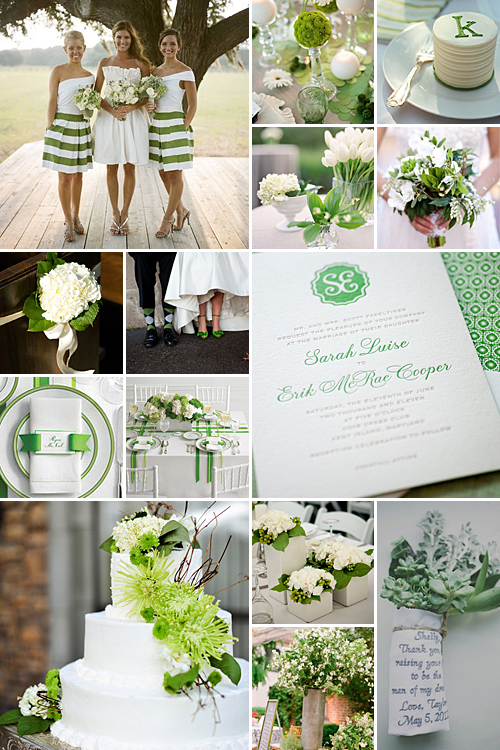 As Mother Nature intended, many would say! This fresh and lovely colour scheme is reminiscent of picnics in the meadow, apple picking in the orchard and the sweet scent of fresh dew on the grass – truly soothing for mind and soul. What's more, if you're passionate and somewhat fanatical about going green, this colour scheme fits the bill just perfectly.
The key to making the most of a crisp green and white colour scheme is to keep the elements simple and uncomplicated, and to play around with various textures to bring it all to life; for instance, opt for unrefined rough textured fabrics, freshly picked foliage and unpolished tables. You might also want to play around with paper, using origami, laser cutting and layering to add depth to the white side of things.
At this very point in time, we're all too taken with white ceramics – whether it be small glazed figures or contemporary shaped vases. On top of that, you can play around with plenty of clean glass elements as the reflecting of natural light will further enhance the lightness of the colour scheme.
Another option is to bring in raw and natural elements like wood, bark, hessian and terracotta, to add to the light and organic feel of the occasion. In terms of keeping it green and organic altogether, consider giving your guests plant seeds or seedlings as guest favours to further promote sustainability, and don't be shy to ask vendors how and where their goods are sourced.
Original images and credits available on Pinterest.