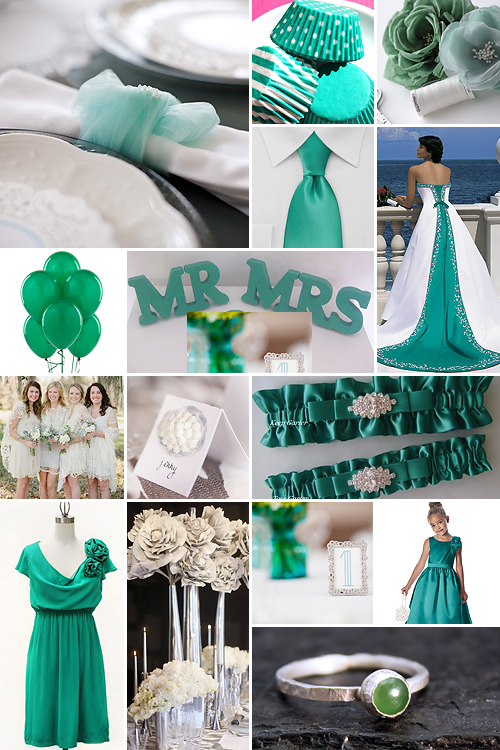 If you've always somewhat fancied the new mint trend but found it a little too weak for you, here's an option that might just be more up your alley: Jade green, white and silver. This bold and vibrant combination of jewel tone and white is simply truly refreshing and the ideal counter colour scheme to keep things cool during the coming African summer.
While the colour scheme is perfect for a beach wedding, its unpretentious yet elegant nature makes it suitable for both morning and evening affair. What's more, jade green is quite a unisex theme and we can't imagine hubby saying "no" to wearing a striking boutonnière or pocket square, or being unhappy with these spectacular wedding ideas:
The jade-on-white effect is nothing short of magnificent so be sure to add tiny jade and silver details to your wedding dress in the form of jewellery, garter or sash.
For an evening celebration, consider using fabrics of a shinier and smoother texture such as silk or organza to complement the sparkling silver. A morning affair on the other hand would call for jade lace, tulle, cotton and chiffon.
In terms of silver, use plenty of mirrors and heavy silver- and crystal ware to decorate the tables, and wrap your guest favours and treats in sparkly silver paper.
Add touches of jade to your table décor in the form or napkins or napkin rings, jade green succulents, coloured glass ware and fabric flowers.
Visit your local lighting expert and have a peek around his storeroom for funky and unusual jade lamp shades or chandeliers, or follow the naked light bulb trend by spray painting your light bulbs in jade and silver.
Add a touch of jade to your dessert table with jade and silver cupcake cups or dessert plates, and have your cake designer play around with fabric jade rosettes and silver cake jewellery.
If jade is one of your personal favourite colours and one you'd most likely use to decorate your home, invest in jade vases, place mats and throws to toss over couches for a comfy seating area.
For more ideas on Silver, White and Jade Green Weddings or to check out the original photos displayed above and their credits, make sure to check out our Silver, White and Jade Green Weddings Pinterest board!