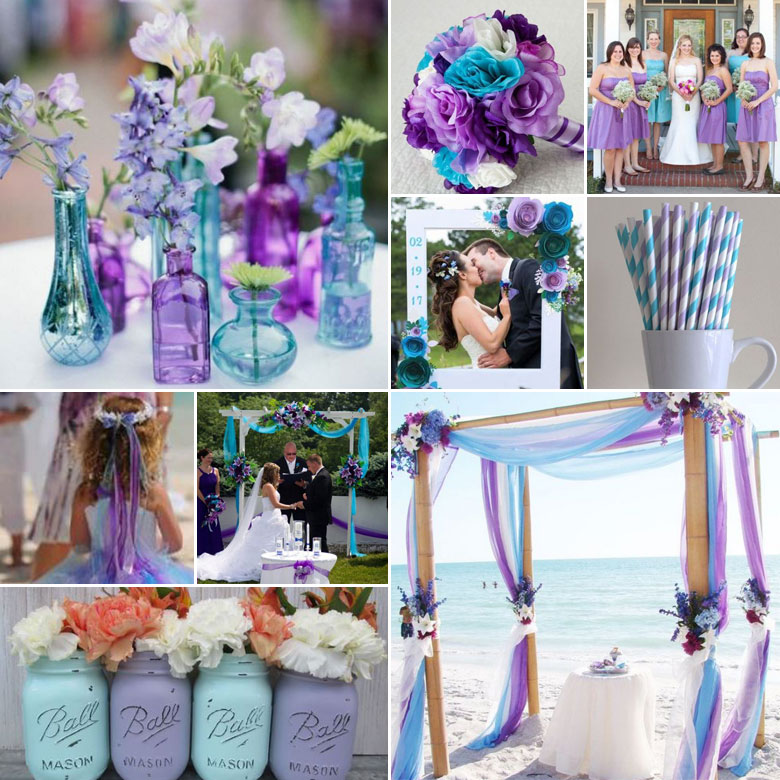 Soft and feminine yet not too girly – isn't that what every bridal couple wants in a colour scheme? This whimsical combination of lavender and turquoise is almost reminiscent of Disney tales like Cinderella, encapsulating the same magic and romance of the classics.
Dress your bridesmaids in soft lilac dresses, with your maid of honour in a striking turquoise gown.
Lighting is essential for setting the perfect fairy tale atmosphere, so ask your lighting technician to stick to shades of blue and purple.
When it comes to flowers, you have unlimited options! From lavender and cornflowers to roses and hydrangeas.
Drape the tables in soft lavender table cloths, and add touches of turquoise to really make it pop.
Take your crisp white bridal ensemble to the next level with lavender accessories and turquoise shoes.
To add an element of old school nostalgia, incorporate turquoise enamelware, crockery and glassware.
Keep the groomsmen's outfits chic and simple, but add a few fun touches like turquoise braces or lavender bowties.
Serve bright turquoise welcome drinks, and complete the picture with lavender and blueberry cupcakes and desserts.
Turn everyday objects into pastel décor focal points! For instance, coat a piece of wood with lavender paint or wrap a candle in turquoise tissue paper.
Original images and their credits available on Pinterest