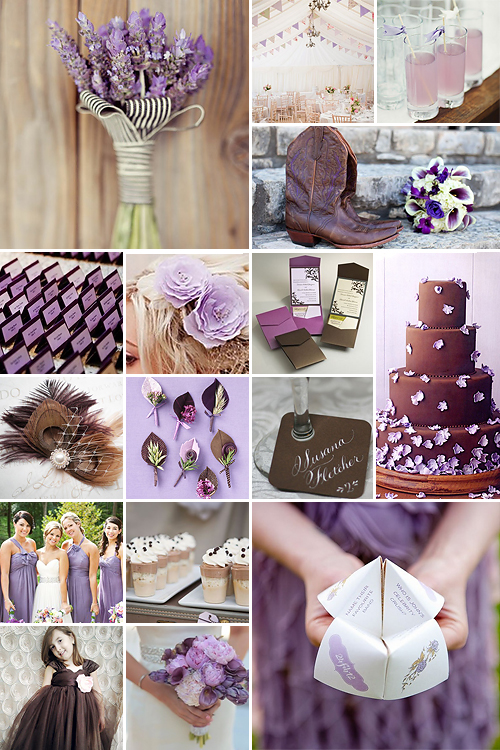 Light brown and purple are two colours you'd typically find at an ice cream parlour or candy store, but when combined with cream or white, the combination is enchantingly striking yet still soft and elegant.
Hydrangeas, hydrangeas, hydrangeas – we cannot get enough of them! Other purple flowers you can work with include lavender, orchids and roses. Status (the purple paper-like flower) is a great choice for a bouquet as it doesn't require water to stay fresh.
Add light brown touches to your bouquets and arrangements in the form of dry twigs, wheat ears and bamboo, and drape your tables in lovely burlap.
Play around with purple lighting on white furniture – simply magical!
While on the subject, wheat ears are incredibly versatile – use them to decorate cards and stationery, as napkin rings, boutonnières and hanging decoration.
Use plenty of light wooden organic elements such as tables, chairs, wooden planter pots as table decoration – you name it.
Further decorate your venue and tables with bowls of fresh purple grapes and mulberries – juicy, delicious and eye-catching.
Spoil your guests with toffee-flavoured kiddies' treats such as toffee milkshakes and toffee Steri-Stumpies, or a more adult treat like cream liqueur.
Decorate light brown paper bags with purple lace and ribbon to save a dime and add to your theme – perfect as guest favour packaging or have your church programme printed on the outside and fill the bag with purple confetti.
Build a candy or dessert table in your chosen theme colours laden with plenty of home made toffee, butterscotch cheesecake, Turkish delight and blueberry treats.
For more ideas on Light Brown and Purple Weddings or to check out the original photos displayed above and their credits, make sure to check out our Bridal Handbags Pinterest board!