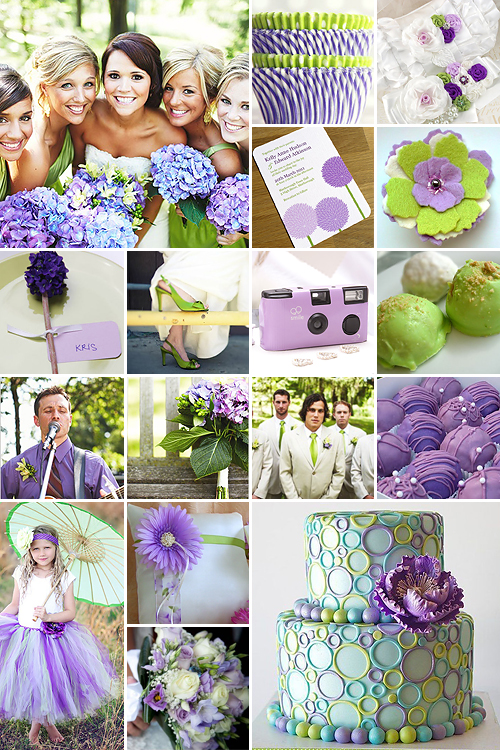 Purple-and-Lime was one of the very first "wow" and daring combinations to really grip the world back in the 90s and it seems the trend hasn't faded since. Or perhaps it has. With the return of vintage fashion and trends, colours have become more faded and soft, and the purple-lime combination is no exception.
This breathtaking combination of soft lilac and lime is lovely, elegant and ultra feminine without emasculating the groom. A colour scheme like this is ideal for an evening wedding – especially when replacing the soft lilac with a deeper shade – though it's even more perfect for a light and summery morning affair.
At first you might scratch your head when you start brainstorming lilac and green elements. However the theme is a little deceiving and you'll find that, once you start looking, there are ample elements out there that will simply take your breath away.
Let's start with the simplest lilac-green combination: The flowers. Use lavender, purple tulips, orchids, roses, freesia, hydrangeas, yesterday-today-and-tomorrows or purple delphiniums and combine it with soft green ferns and leaves.
Combine actual green limes with your flowers to create eye-catching centrepiece displays.
Create a whimsical candy table consisting of lime and lilac candy, or all lilac candy with lime containers.
Choose a combination of lime and lilac accessories for the groom and grooms men – braces, socks and bow ties – and pair it with a soft grey or beige suit or no jacket at all.
Add simple touches of lilac and lime to your wedding dress; for instance if you're carrying an all lilac bouquet, add lime details to your gown or rock a pair of lime-coloured heels.
Use lilac roses or hydrangea blossoms as confetti and mix in a couple of crisp green spring leaves.
If you're looking to add some dramatic touches to the affair, peacock feathers provide the perfect natural combination of purple and green and are the perfect addition to your wedding day décor.
Serve lime mojitos with colourful lilac straws at your cocktail party.
Incorporate lilac-and-green vintage floral patterns into your stationery designs.
Original images and their credits available on Pinterest