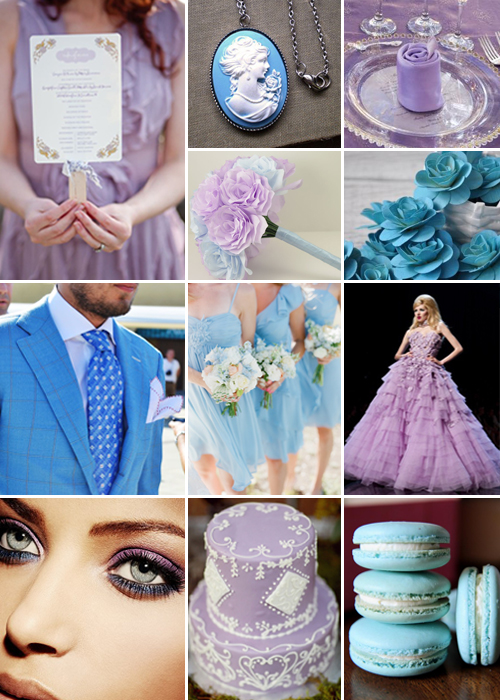 For a soft, pretty wedding theme with a trendy twist, lilac and sky-blue is the perfect combination. This is cool, but not devoid of character; it is pretty, but not overly feminine. The combination of blue and lilac is a subtle balance between the bride (who is feminine and, therefore, better represented by the pinkish-purple of lilac) and the groom (the masculine partner who is represented by the blue).
If you are brave enough and want to have a wedding with a difference, consider having your bridal gown and suit in these two colours. A lilac dress is striking and will be really memorable, as is a powder-blue suit. But, if you're someone that loves the idea of a romantic white wedding dress and black suit, there's no need to compromise on this. To incorporate colours into an otherwise white dress, you can consider having lilac or sky-blue shoes, a sash, jewellery, hair accessories, a petticoat or flowers. A suit will be nicely finished off with a blue bowtie or cravat, waistcoat, and so on.
To reinforce the theme, use fresh lavender and hydrangeas throughout your venue, as these are naturally the colours of your wedding. Because they are natural items, their colours will not become overwhelming.
Keep a neutral background of grey, white or stone so that your guests are not flooded by colour when they enter your ceremony or reception venues. By doing this, your colours will actually stand out more than if they were on every surface.
To incorporate the colour theme into your menu, serve lavender sorbet, use coloured glitter on your cake and desserts, and garnish with little lilac and sky-blue blooms on the plate. This is tasteful, but does not permit your wedding theme colour to be forgotten.
For the original photos from above as well as the credits AND more Lilac and Sky Blue Wedding ideas, make sure to check out our Lilac and Sky Blue Pinterest Board!