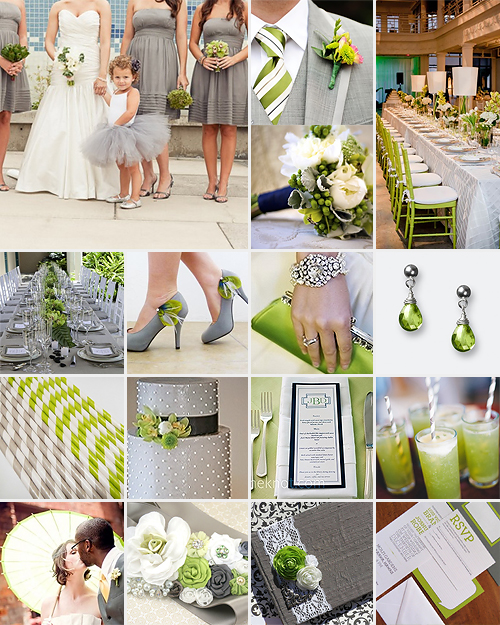 There's nothing quite as mesmerising as a colour scheme that takes you by surprise – like this combination lime green and grey, for instance. Hear it, and you can't help but wonder why anyone in their right mind would opt for such a strange combination; see it, and you can't help but fall in love.
As you've probably picked up, the wedding world has broken away from luminous lime, instead favouring a softer and more natural shade of green. Combined with the season's favourite base colour – grey – it makes for a fresh country ambience that's perfect for a late summer or spring wedding. Be sure to add touches of crisp white and crystal-ware to keep the grey from getting too heavy and subdued.
Choose crisp white flowers with a soft green undertone, like green hydrangeas, roses and lilies for the centre pieces and bouquets. Alternatively, scrap the flowers altogether and opt for greenery, succulents and foliage all around.
Grey suits have definitely taken a huge leap on the popularity scale and are perfect for the occasion. Paired with a green boutonniere, tie, socks, braces or waistcoat, your darling dearest will look stylish and feel comfortable in the African heat.
Grey bridesmaid dresses? Yes please! To break the "cold" character of the colour, stick to soft and feminine fabrics like lace, chiffon and tulle. Jazzed up with a few simple lime touches, it's enchanting elegance in its purest form.
Drape the tables in a combination of grey and white linen! Also use plenty of antique silverware and greenery in clear crystal vases to keep things light and airy.
We love stripes! It's fun, playful, fresh and stylish, just like this theme. So whether you opt for grey striped table cloths or a lime striped photo booth backdrop, stripes are a must.
Serve refreshing lime mojitos upon guests' arrival and zhoosh 'em up even more with lime or grey spiral straws.
If you're an August baby, incorporate your birthstone – the light green peridot – into your jewellery and accessories, and play around with plenty of vintage silver.
Have your pictures taken in a soft green pasture or fairytale forest. Alternatively, if you're looking for the perfect grey backdrop, head out into the olive orchard for a whimsical wedding shoot.
For the original photos and their credits PLUS more inspiration, make sure to check out the Lime Green and Grey Weddings Pinterest Board!