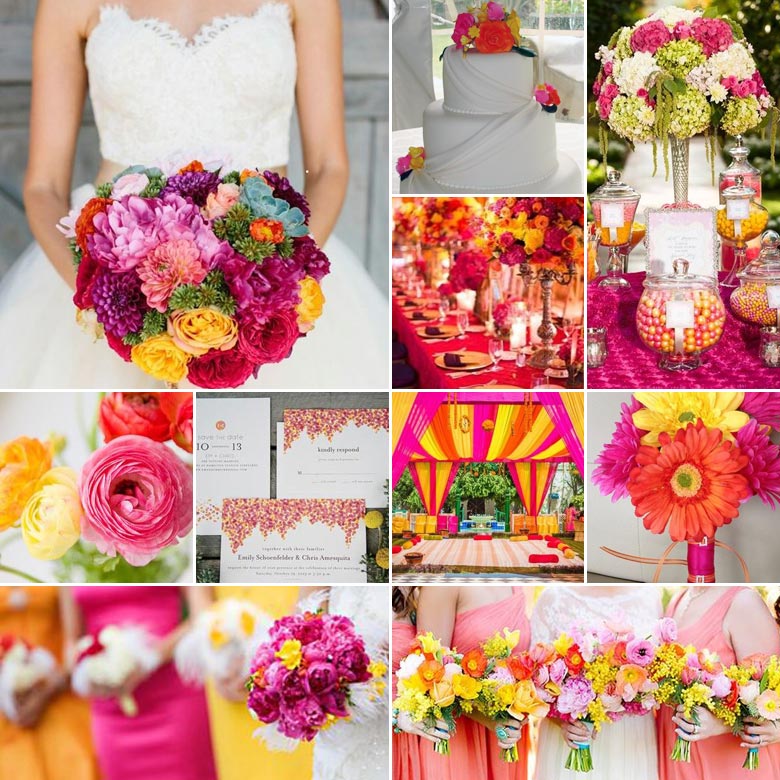 You need a colour scheme that reflects your bright and happy personality… and this is just the one! Magenta and yellow is a combination of two of the sweetest and most vibrant colours around, and if you choose it, you're in for a theme that literally screams "spring is here! Spring is here!"
Here are a few ways to turn this delicious fiesta of a colour scheme into a wedding day winner!
Bright pink and yellow gerberas are an absolute must, not to mention roses, daffodils and daisies.
Deck a candy table that's overflowing with brightly coloured eats and sweets.
Serve lip-smacking juices and cocktails with colourful straws and umbrellas to reflect the fresh and fun nature of the colour scheme.
Add pops of colour to your own bridal ensemble in the form of bright coloured shoes, lips and nails. If you're daring, opt for a magenta petticoat.
Dress the bridesmaids in shades of the two colours, or choose a light grey or black dress and jazz it up with your theme colours.
Don't force the groomsmen into magenta shirts. Instead, add a subtle touch of colour in the shape of socks or a boutonniere.
Original images and their credits available on Pinterest