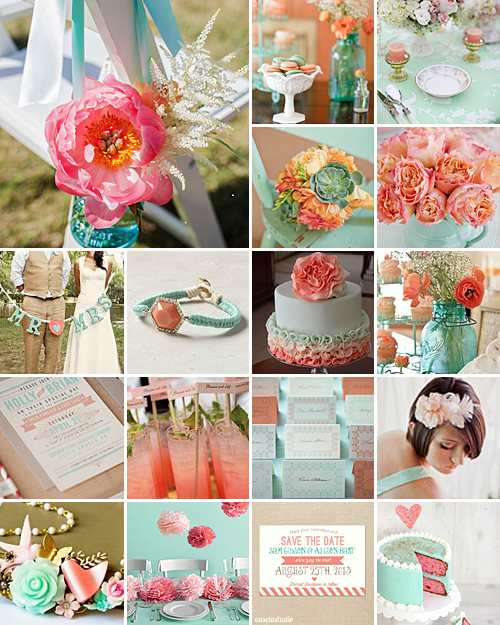 Mint and coral are both beloved colours in wedding circles, but put them together in the same melting pot and you're in for a fresh uncomplicated theme with an undeniably soft and innocent vintage appeal. This organically feminine colour scheme oozes country charm and has an almost tranquil undertone that paves the way for a simple yet stylish wedding – morning, noon or night.
The key to pulling off this colour scheme in the most effective way possible is to keep all your elements as natural, light and simple as possible. For instance, don't go overboard with lighting elements or bouquets – rather stick with simple candles and freshly picked blossoms.
While the blend of colours is just lovely, this colour scheme has the potential to touch more than one of the senses – it's as simple as incorporating mint and peachy flavours into your big day! For instance, add mint and peach dishes to the menu, serve mint and peach cocktails on arrival, laden the dessert tables with mint truffles and peach tartlets.
But to some mint & coral colour inspiration:
Coral flowers are abundant! However try to stick with flowers that have the same fresh and vintage character of the colour scheme, such as roses, peonies and freshly picked daisies.
Use plenty of succulents with the aforementioned flowers to embody the minty side of this lovely colour scheme.
Spoil your guests with a fine selection of mint and peach teas either to sip on at the reception or take home as guest favour.
To build on the vintage presence of this colour scheme, opt for vintage elements in the chosen colours – for instance, painted wooden chairs and tables, tea pots and tins, and ceramic cake stands and ornaments.
Use coloured glassware like vintage mint-coloured jars and coral wine glasses and tumblers.
Serve mint and coral tinted treats that fit the sweet and innocent style of the colour scheme – for instance macaroons, cupcakes, petit fours, meringues and more.
Other colours that work well with this colour scheme include grey, cream, light meringue pink and sunshine yellow.
For more Mint and Coral Wedding Ideas, the original photos above and their credits, please make sure to check out our Coral and Mint Weddings Pinterest Board!