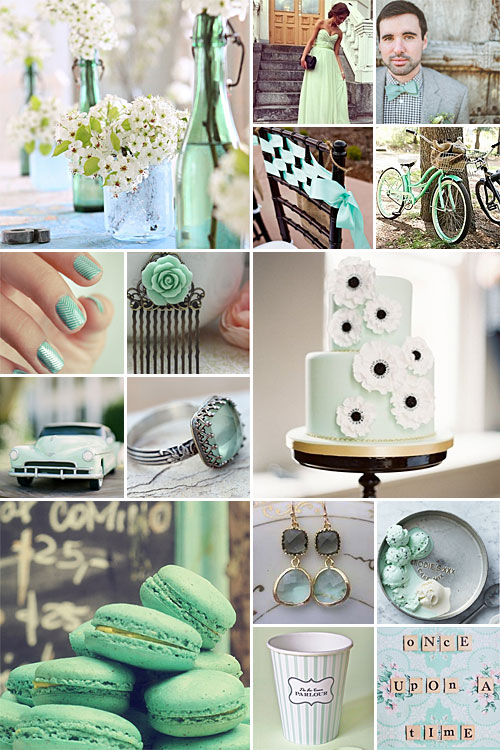 This is one of those all too enchanting vintage-meets-contemporary colour schemes, with the mint bearing a strong old world charm and the stark black encompassing all that is modern. Aside from the modern-vintage aspect however, the colour scheme creates a strong feminine-masculine contrast which is really idea for a day that's as much yours as it is hubby's.
While mint should be your more dominant colour, you can turn up the black for a more dramatic ambiance. Even though it's a wedding, don't be afraid to go bold and opt for more weighty black elements like chairs, wall hangings and dance floor tiles – especially for an evening extravaganza! As always, where there's mint, there should be succulents (paired with polished black lava stones perhaps) and mints on the tables.
A season or three ago we might have said "guys in black with mint accessories and girls in mint with black accessories. However, forget the accessories! We're thoroughly intrigued by the contrast between girls completely dressed in mint and guys in clean cut black suits and ties – not only in colour but also in feminine vs. masculine character. Feel free to add mint and black elements to your own bridal ensemble for a more striking look.
The dessert table is where the delicious magic will go down – think plenty of mint on dark chocolate treats like layered mousse, cheesecake, macaroons, cupcakes, mint centred truffles and lollipops. The colour scheme can also be exhibited other areas of the menu – for instance, cucumber soup served in shiny black bowls or dark rye toast with mint pesto.
Original images and their credits available on Pinterest