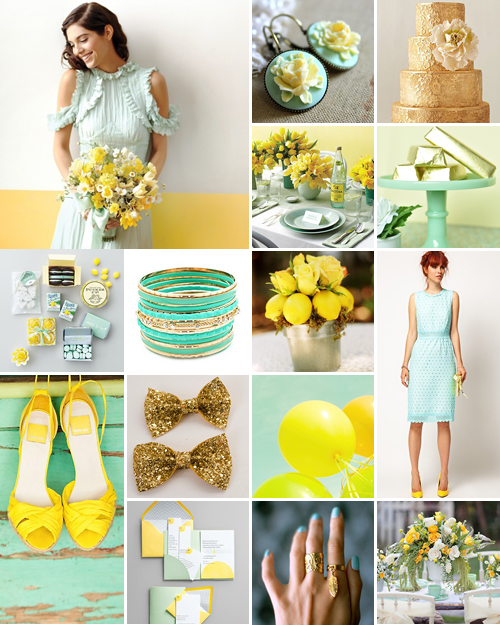 As the days get warmer, so do the wedding industry. The 2012/2013 wedding season is fast approaching and a little birdie told us mint, yellow and gold is the hottest colour scheme this season and we're completely smitten.
The combination of mint and yellow is simply refreshing and in our opinion, sums up springtime elegance to the T. However to keep things from getting too bland and pastel-perfect, the touch of gold takes the colour scheme to a whole new glamorous dimension. The idea is to stick to one shade of each colour in the scheme to create a stronger contrast between them.
While wedding and stationary shelves are laden with mint accessories and pretty bits and bobs in literally every shape and size imaginable, these stand out:
Mint coloured mini dresses for the bridesmaids (paired with yellow shoes – too lovely!)
Simple mint coloured jewellery
Mint crockery on the guest tables
Mint bow ties or braces for the groom and grooms men
Succulents like desert roses have a mint undertone and adds a touch of rustic charm to the theme
Mint macaroons and decadent peppermint crisp tart for dessert
As mint is really the more dominant colour in the colour scheme, it's important not to go overboard with yellow. After all, the idea is to keep things fresh and not turn it into a sunshine circus that hurts your eyes.
Choose simple yellow flowers like billy balls, daffodils yellow roses or tulips that are all yellow. If it's a bit too much, add touches of white to soften the overall effect.
Lemons! Lemon table decorations, place cards attached to lemons, fresh lemonade, you name it!
A simple yellow bouquet for the bride and bridesmaids, or yellow shoes as mentioned above.
Yellow napkin rings to contrast the mint crockery
Yellow boutonnières for the groom and grooms men
Lemon- or custard flavoured macaroons and lemon meringue pie for dessert
When adding golden touches, be sure to do so in a subtle way. The amount of gold you add really dictates where your wedding will lie on a scale from spring fresh to diva delicious.
Gold wrappers for the guest favours at each place setting
Simple gold jewellery or even shoes for the bride and bridesmaids
Gold chandeliers for the tables.
Golden confetti
Gold plated cutlery instead of the traditional silver.
Edible gold glitter on the various desserts
For more ideas on Mint, Lemon + Gold Wedding Ideas or to check out the original photos displayed above and their credits, make sure to check out our Lemon, Mint and Gold Pinterest Board!