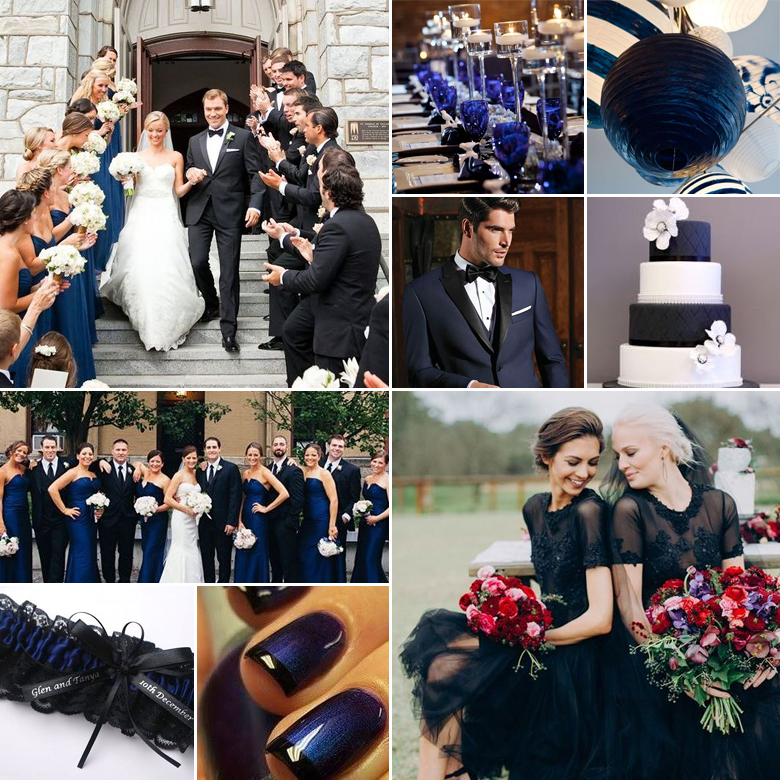 Navy blue and black together are known for creating an ethereal midnight ambiance about it that's incredibly magical and alluring. What makes these two colours so incredibly intriguing is the fact that they're so closely related. This enables you to play around with various shades to create an ombre effect that blends navy and black together.
Deck the tables in a combination of navy and blue table cloths, or striped ones at that.
Dress your bridesmaids in elegant navy dresses, and the groomsmen in stylish black suits.
Add a little drama to your own ensemble with a pair of navy shoes and black belt.
To give your theme that midnight feel, add plenty of fairy lights and candles as far as the eye can see.
Little specks of white and silver will keep the colour scheme from becoming to serious and heavy.
Incorporate the colours into the dessert table with blueberry treats and heavy dark chocolate delights.
Use black boards to inform your guests of their table numbers and the menu.
Instead of a red carpet, why not roll out a navy carpet and make your big arrival in a stylish black limousine?
Original images and their credits available on Pinterest