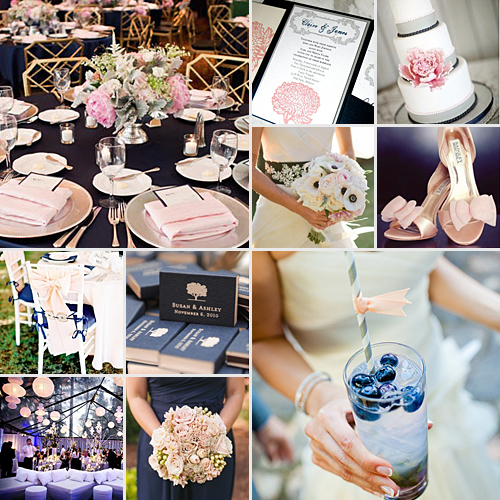 It's a woman's natural reaction to blush when a navy officer looks her way, so it was only really a matter of time before these two colours met up in the bridal world. What we adore about this colour scheme is how it's really a colour representation of your union, telling the story of handsome man (dark and mysterious navy) meets sophisticated beauty (soft and feminine blush). What's more, because blush falls somewhere between light pink and nude, it really is the perfect colour scheme if you're not the typical girly girl.
A lovely and simple way to combine the two colours effectively is through simple and repeating patterns. An all-time favourite is of course vertical navy and white stripes which form a lovely basis for other blush elements. And then there's our current favourite, chevron, which is just too lovely in navy and blush.
In terms of balancing the colours, you can either decide to be striking and dramatic with navy as the base colour or go the soft and feminine route where blush is the more dominant colour. Add coloured lighting to really enhance the overall look and ambiance.
A dapper lad in navy blazer and blush bow tie? Yes please! Complete the look with a blush boutonniere and, if you both have a country-hipster streak in you, do consider adding a denim shirt to the mix.
To contrast hubby-to-be's outfit, break tradition with a lovely blush dress instead of the expected crisp white gown and opt for a pair of striking navy heels.
We're just loving stylish navy minis on bridesmaids at the moment! Complete the look with blush shoes and bouquet, and they're good to go.
Bring blush and navy to the table with a tower of blush pink macaroons or meringues, garnished with fresh blueberries. Other lip smacking blush options include candyfloss, milkshakes, coconut ice and twirly-whirly ice cream.
In terms of blush coloured flowers, you're truly spoiled for choice! Some of our personal favourites are peonies, carnations, roses and ranunculi. Tie it all together with a navy bow, and voila!
From place cards and table settings to bathroom signs and guest favour wrapping – use blush for the ladies and navy for the gents throughout.
For more Navy and Blush Weddings inspiration, the original photos above and their credits, make sure to check out our Navy and Blush Wedding Pinterest Board!