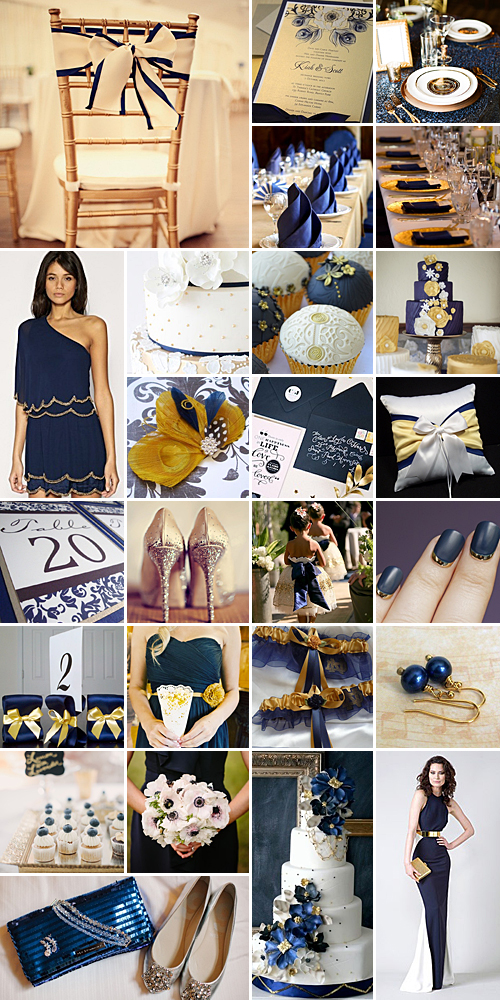 You are cordially invited to attend a ship captain's ball! This elegant and dashing colour scheme has all the makings of a different type of modern fairy tale wedding – one where the damsel is swept away by a dapper young man in uniform.
There's not much you can do wrong with this theme, as long you stick to bold and simple elements throughout. While the idea is to use gold as accent colour, this scheme really calls for statement pieces, so no dainty little gold trimmings. Also bear in mind that, the more navy you add on top of the white base colour, the more dramatic it becomes.
Play around with gold buttons – use them to brighten up your napkin rings, make button boutonnieres, use them on stationery – you name it!
Choose stylish navy inspired wedding dresses with fancy gold buttons and neck scarves for the bridesmaids and add a dash of bling to your own ensemble with a gold statement necklace and navy shoes.
Dress the groom and his following in dashing navy suits with crisp white shirts and gold cufflinks. Add navy bow ties for a dash of quirkiness or skinny ties for a more clean-cut boy band look.
Make a statement with gold sprayed wedding chairs at the reception and/or ceremony. For a lighter look, opt for white chairs with gold and navy trimmings.
Decorate the tables with bowls of yummy blueberries and add touches of gold in the form of gold under plates, gold rimmed glasses or gold cutlery.
Bling up the wedding cake with striking cake jewellery or gold edible glitter.
Play up the military navy side of things with gold pocket watches, anchor designs, military medals and shoulder badges.
Glitter bombs are back! As old school as it is, it fits right in with this opulent theme so hang it above the dance floor and watch it go "pop" during your first dance.
For more Navy and Gold Wedding Ideas, the original photos above and their credits, make sure to check out our Navy and Gold Pinterest Board!