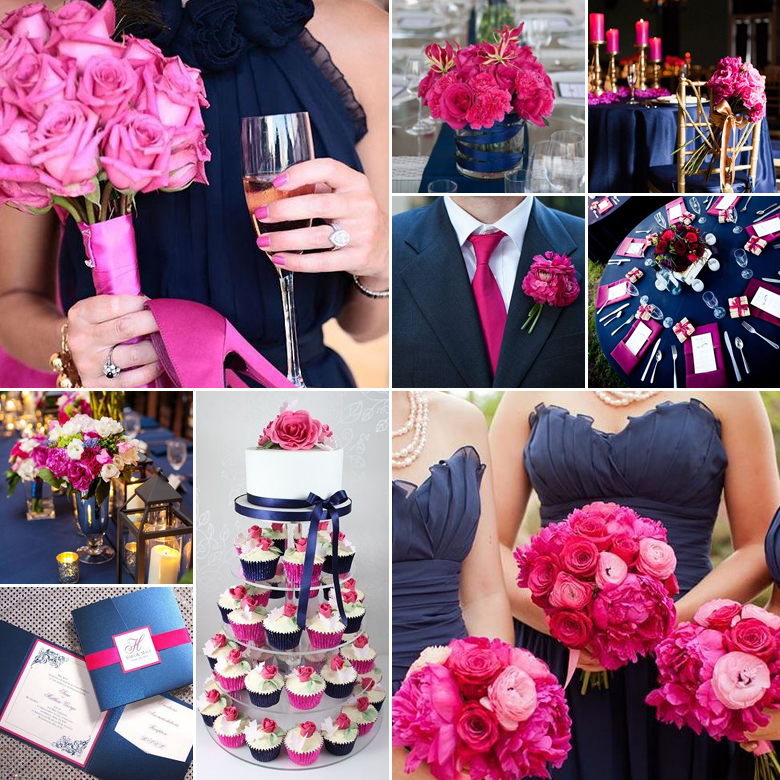 Boy oh boy! Are you in for a delicious treat! Today's colour scheme is equal parts girl-and-boy, striking the perfect his-and-hers balance. We just love how outrageously dramatic this colour scheme is, and the combination is ideal for both summer and winter weddings.
If you're wondering how to go about combining the two, we've got some ideas:
Deck your guest tables in heavy navy blue table cloths, and add touches of fuchsia glassware to really make it pop.
These two colours translate beautifully into a striking candy buffet, complete with blue "gobstoppers" and fuchsia candyfloss.
Bathe the venue in navy and pink lighting as the night progresses.
Dress your bridesmaids in navy blue wedding gowns, with fuchsia pink accessories and bouquets.
Instead of traditional black, choose navy blue suits for the groomsmen – and play nicely with the pink so they don't feel emasculated.
Fuchsia pink flowers are everywhere! To complement the bold ambience of this colour scheme, stick to bold flowers like Barberton daisies and roses.
Keep your bridal ensemble fresh, with bright pink lipstick and navy blue shoes.
Instead of a red carpet, why not roll out a blue carpet and scatter pink petals down the length of it?
Original images and their credits available on Pinterest