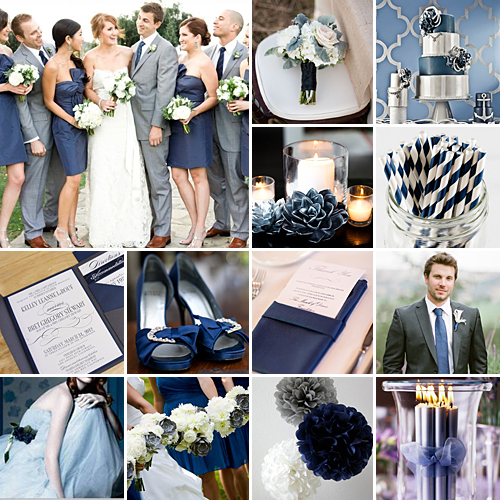 This chic and sophisticated colour scheme shouts, or rather whispers, stylish evening do – and what do you know, the colours are right up hubby-to-be's alley! The trick to pulling this colour scheme off with the utmost flair, is to make good use of plenty of glass and crystal ware – the enchanting sparkles will keep the colour scheme from becoming too dull and muted, ultimately making it live up to its full glamorous potential.
What we really love about grey and navy is that it can be so easily adapted to be lighter, darker, more summery or more mystical. Should you wish to lighten up the colour scheme – ever so slightly or rather dramatically – it's as simple as adding the appropriate amount of white. Alternatively add splashes of coral or gold sparkle to warm it up.
Dress the gents in light grey or charcoal suits with navy ties or, if they're up for it, navy suits with grey ties. Ladies on the other hand can pull of either navy or grey dresses with contrasting accessories.
While Mother Nature is somewhat limiting in terms of navy flowers, you have the option of using grey foliage like olive branches and desert roses, not to mention the abundance of white and cream blossoms.
Bling it up with dashes of silver or keep the overall theme more muted and natural by playing around with lighter and darker shades of grey.
Instead of using full-on venue draping, create a contemporary look by draping only one wall in charcoal or navy – striking and simple.
When it comes to the photo session, scout out a solid grey wall or grey industrial setting – the contrast between the stark grey and the combination of white wedding dress and bridal glow is bound to be breath-taking.
Chat to a wedding planner to help you with implementing your colour scheme / wedding theme!
For more Navy and Grey Wedding Ideas, the original photos above and their credits, make sure to check out our Navy and Grey Weddings Pinterest Board!