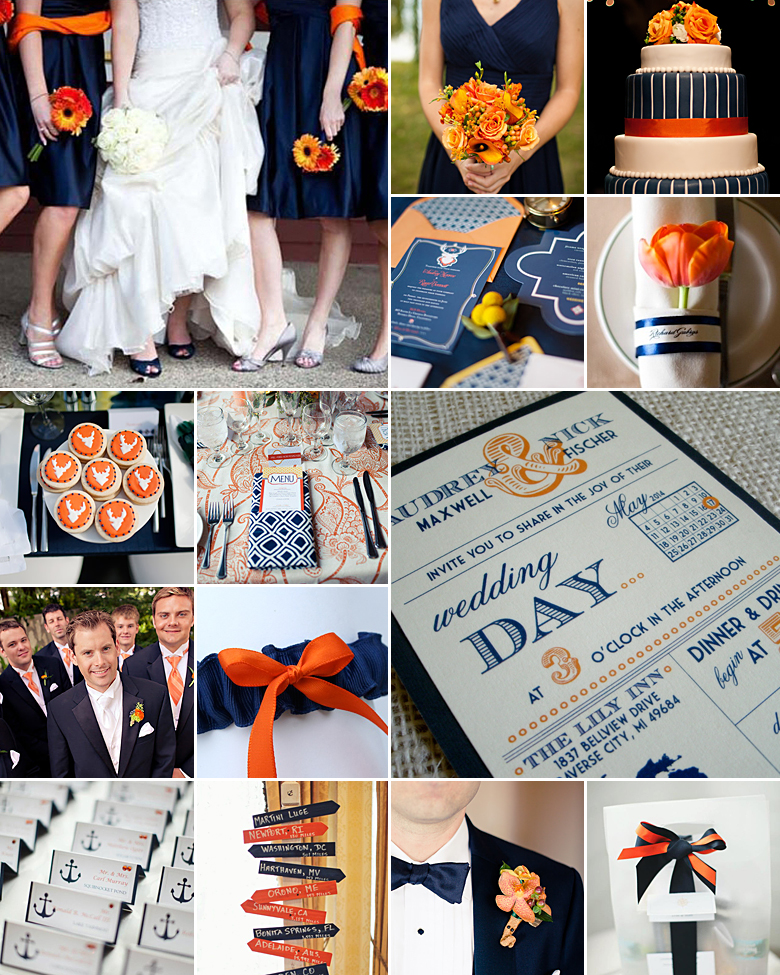 In your mind, navy and orange are two colours that shouldn't meet each other in a dark alley, or anywhere for that matter. However be prepared for a complete mind shift, because by the end of this article you'll be of an entirely new opinion.
The trick to pulling this colour scheme with the right amount of style, flair and panache, lies in balancing the colours. One option would be to use navy as base colour with splashes of orange for an elegant evening affair. Alternatively, use white as primary colour and both blue and orange as accent colours. To soften the colour scheme, incorporate shades of orange – i.e. coral and peach – into the overall colour scheme.
Nature also loves this combination, so make use of it by placing big bowls of blueberries and plump orange gooseberries or oranges around the venue.
No bridesmaid wants to don an orange dress, so be nice and choose striking navy gowns complemented by striking orange accessories.
Dress the boys in navy suits with orange floral boutonnières or make it interesting by adding orange socks, braces or cuff links to the mix.
For an extra dash of drama, add splashes of navy and orange to your own crisp white bridal ensemble – think navy shoes, orange statement necklace.
In terms of flowers, opt for blue hydrangeas, tulips or blueberry vines combined with orange peonies, roses, carnations or the likes.
Serve blueberry juice or cocktails during canapés along with a selection of orange treats like butternut crisps, orange drizzle cake and orange macaroons.
Original images and their credits available on Pinterest