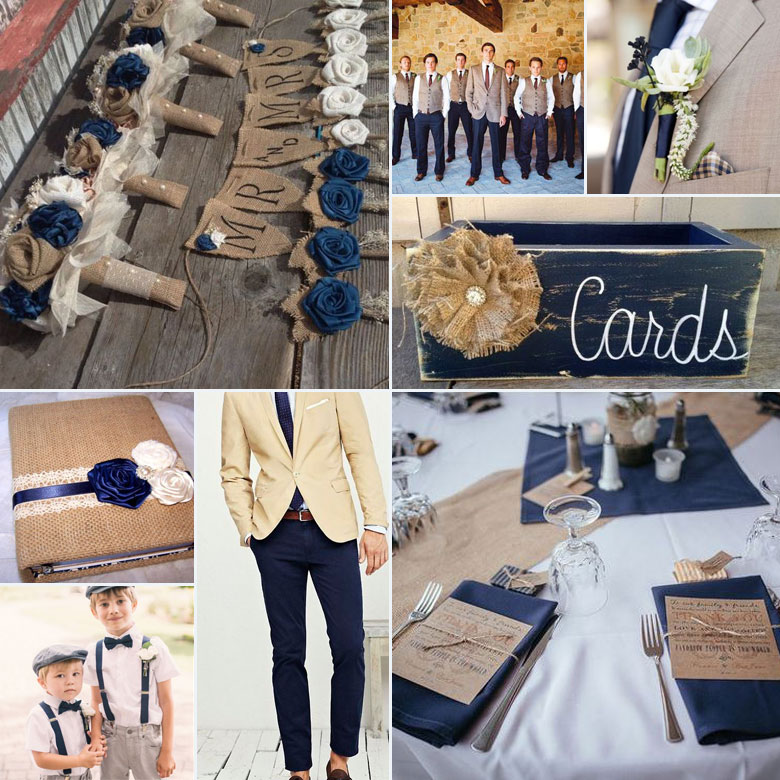 Rustic, meet elegant! This colour scheme introduces the best of both worlds in what's guaranteed to be a show-stopping event. On the one hand you have navy blue, which is associated with majesty and elegance, and on the other hand you have the rustic charm of tan and brown.
This theme is really all about creating beautiful contrasts – in colour, texture and ambiance. Here are a few ways to combine the three:
Burlap is an absolute must! Pair it with soft navy blue chiffon to create stunning contrasts.
Dress the groom and his guys in navy blue suit, with brown tweed waistcoats.
Opt for unpolished wooden tables, and add a touch of navy in the shape of table runners and glassware.
Alternatively, use wooden décor elements with chipping navy paint for extra charm.
Serve a variety of decadent caramel and chocolate desserts, along with blueberry treats.
Instead of a crisp white wedding gown, why not consider a soft tan dress?
To really drive the rustic chicness of this theme home, choose brown cowboy boots for the bridesmaids (to go with their navy dresses).
Introduce elements of nature in the form of wheat ears, sand and light brown bark.
Original images and their credits available on Pinterest