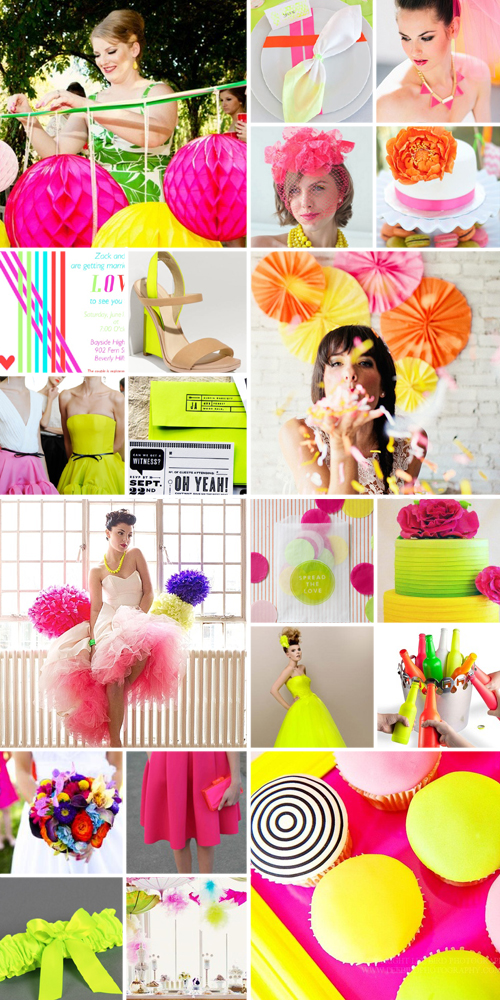 Neon colours have re-emerged in the fashion and décor world in response to the recent 80's revival. Using neon colours as a wedding theme is modern, fun and uber retro. It is a great choice for young, trendy couples as well as those that lived through and can remember the 1980's. It's also a fabulous way to include your guests in the theme by encouraging them to don their own neon varieties.
Not all colours look good in neon, so opt for orange, green, pink and yellow for the best, most vibrant neon theme. Because neon colours are already very bold and colourful, using them together will only enhance the theme, so be experimental and daring in your combinations.
Here are some ideas to inspire your neon wedding theme:
Use neon colours and dynamic designs in your wedding invitations to set the tone for your guests.
Give packs of neon highlighter pens to your guests as wedding favours – they are practical and will remind them of your fun day.
Have your bridesmaids in different neon coloured dresses and your groomsmen in an array of neon waistcoats. In this way, you get to include a variety of neon colours and your entourage will create a vibrant rainbow in your wedding photographs.
Neon jewellery is freely available in most of the fashionable stores. Wear big plastic earrings and lots of rubber bangles for the perfect neon look.
If your skin tone allows, a neon pink lipstick and nail polish can look phenomenal.
Sunglasses with plastic neon frames will make for great photo props.
View our gallery below for more inspiration…
Original images and their credits available on Pinterest