Olive and Dusty Pink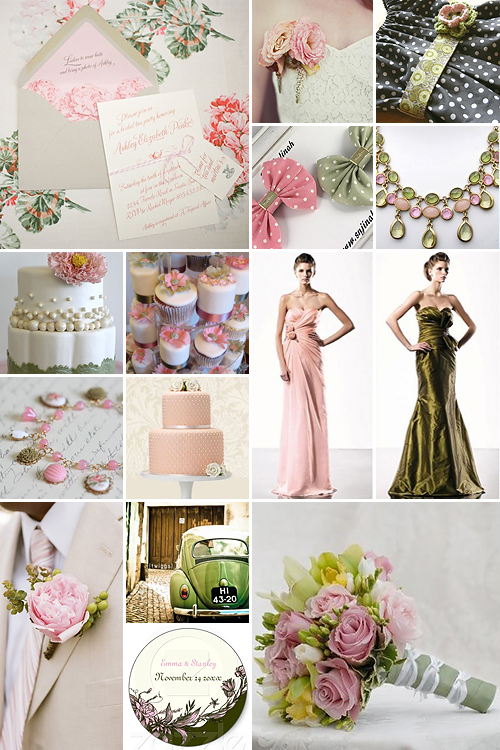 Olive and pink are kind of like a bride a groom – two very different characters, one rather masculine and the other more feminine. But when they are paired, the result is simply exquisite, as if they were made for one another. While the combination of the two colours has a strong vintage character to it, it's also very much reminiscent of spring – vintage spring, if you will.
The key to this unique colour scheme is to keep the elements simple and let the vibrant touches of colour do most of the talking. Also be wary of being too heavy handed with the colours as it could get quite overpowering.
It really goes without saying that flowers and greenery will form the basis of your theme. Dusty pink roses and pink peonies are really the flowers of choice as they are the perfect shade of pink to complement the overall colour scheme and also add to the vintage feel of the theme. Combined with mossy green branches and ferns, your centrepieces are pretty much sorted.
Olive branches are one of the strongest symbols of love and peace and should definitely play a dominant role in the décor. Hang them from the ceiling, braid them around wire frames or tie each guest's place card to a small olive branch. Also consider using a mix of olive or olive coloured leaves and dusty pink flower petals as confetti and scatter some on the dance floor as well.
When decorating your tables, keep the linens and décor simple. Ivory or cream are the ideal base colours as they are crisp enough for spring and vintage enough to be, well, vintage. To complement your pink and olive centrepieces, choose rose tinted wine glasses and olive coloured water goblets – a great way to add colour without adding unnecessary detail to the table.
Dressing the entourage is going to be a blast, and the first option would be to dress half your bridesmaids in pink gowns with olive detail, and the rest in olive dresses with pink detail. The grooms men on the other hand will look simply dashing in their pink and green bow-ties, braces and boutonnières, tying in with the underlying vintage theme. Alternatively you could dress your bridesmaids in pink and choose olive green accessories for the grooms men, to create a lovely overall ensemble.