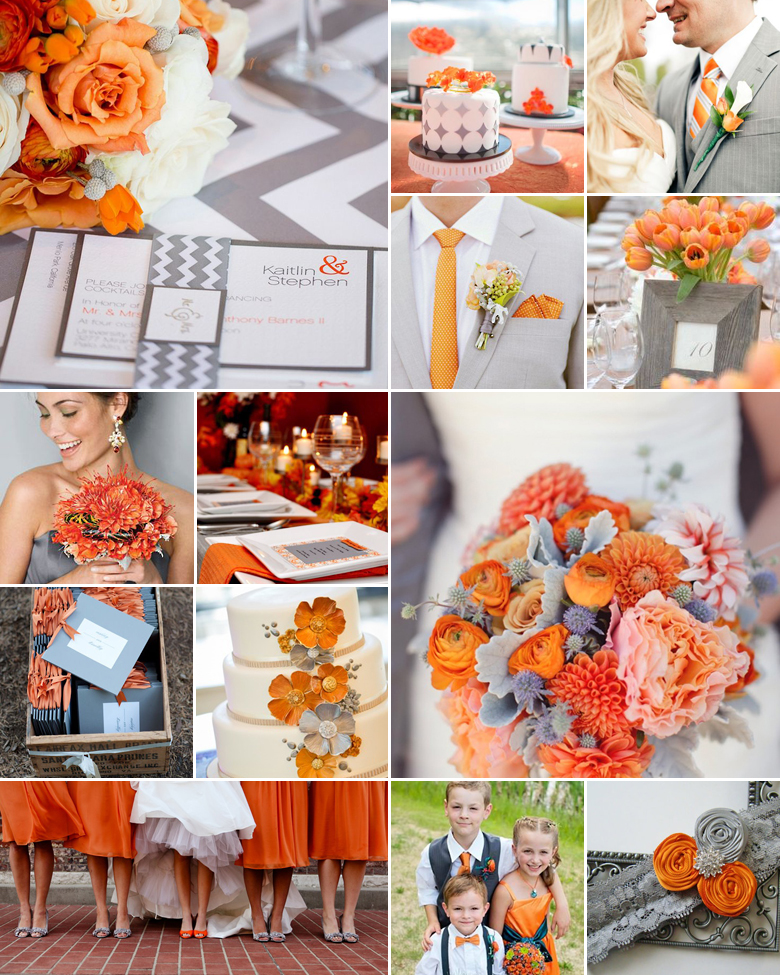 Orange is one of those colours that you either loathe or adore – there's really no middle ground. When paired with a soft grey tone however, it's impossible not to fall in love with the vibrancy and loveliness that is orange. We also love how orange contributes an element of fun to contrast and complement the muted shades of grey, ultimately resulting in a colour scheme that is just the right combination of elegance and pizazz.
Let's look at some contrasting ideas to fuel your colour creativity:
Dress the groomsmen in elegant grey suits, paired with fun orange accessories like sunglasses, braces or waistcoats.
Bear in mind that orange doesn't suit all skin tones and builds, so think carefully when choosing your bridesmaid dresses.
Geometric patterns like chevron and stripes work exceptionally well with this colour scheme as it puts the two colours into beautiful sharp contrast.
Opt for matt antique silverware and vintage silver vases to add a pale sparkle to the grey palette, and incorporate freshly picked fruits like peaches and gooseberries for an organic orange touch.
Bathe the venue in soft orange candlelight and dress the tables in stunning floor length grey table cloths.
In terms of flowers, you have quite a selection to choose from on the orange front – roses, lilies, ranunculi, gerberas, you name it! On the grey side of things, opt for pale succulents, air plants and olive branches to complete your bouquets and arrangements.
Original images and their credits available on Pinterest