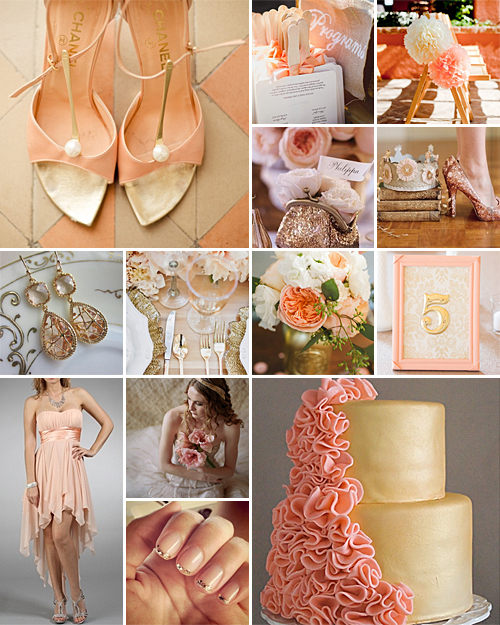 This colour scheme epitomises vintage elegance and speaks of all things rich, royal and feminine – almost reminds one of warm sunny autumn mornings, doesn't it? Due to the soft and delicate nature of peach and the more daring quality of the gold, it's all about creating soft contrasts – for instance, gold sequins of peach chiffon, geometric gold shapes and monograms on an ombre peach cake, and so forth.
When it comes to customising this theme to suit your unique personality, the key is to play around with the level of gold. For a softer more vintage appeal, all that's needed is a few small gold accents here and there. However, if you're quite the bold and daring spirit, go all out with chunky gold elements like gold chairs, draping, bridesmaid dresses and shoes. Other colours that work exceptionally well with this theme include blush pinks, rich shades of cream, lemony yellows, grey and pale vintage green.
Here are a few more ideas for a festive peach and gold affair:
Gold accents:
Illuminate the venue with fairy lights, gold painted nude light bulbs and gold chandeliers.
Decorate the wedding cake and dessert with gold glitter and ribbons.
Instead of traditional confetti, opt for gold lit sparklers or sparkly sequins.
Complete your bridal look with dainty gold accessories and gold nails – if not, why not!
Peach perfection:
Opt for a selection of soft peach-pretty flowers like roses, peonies, ranunculi and lilies.
Deck the dessert tables with sweet and peachy treats like macaroons, petit fours, pavlova and peach tartlets and celebrate your matrimony with a glass of peach schnapps.
Add to the whimsical elegance of the theme with plump oversized peach helium balloons.
Use real peaches as place card holders – simply pop the name card on a toothpick and prop it up!
Bathe the venue in peach coloured lighting and play around with peachy Chinese lanterns and bunting.
For more Peach and Gold Wedding Ideas, the original photos and their credits, make sure to check out our Peach and Gold Pinterest Board!