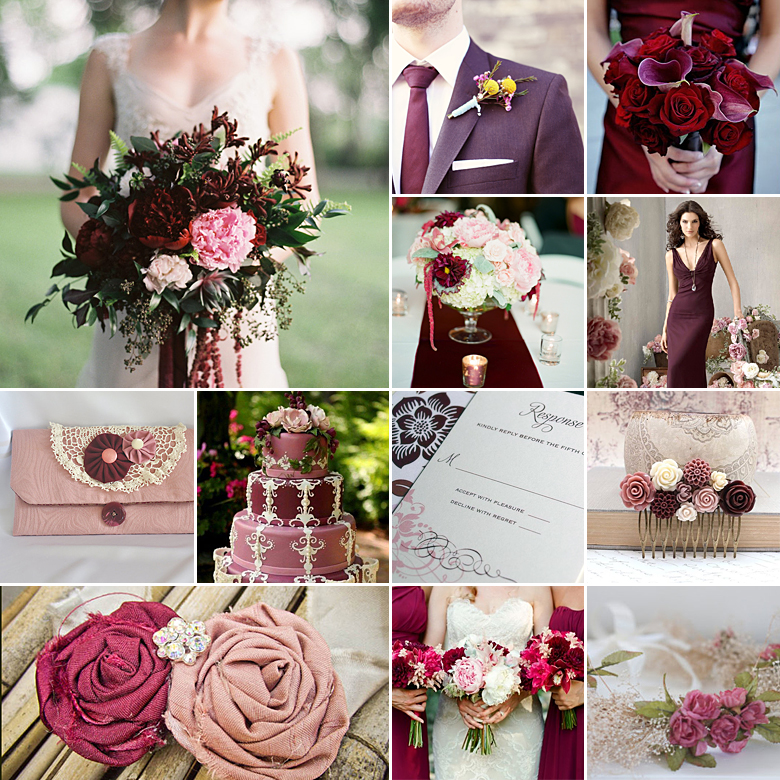 Burgundy and pink provide a good example of how two or more shades of one colour can work well together in a wedding. Pink and burgundy are both elegant shades. Pink is particularly feminine, while burgundy allows the groom to wear a slightly more masculine colour while still fitting in with the theme.
This combination pairs well with white as well as ivory, giving you flexibility regarding the colour of your wedding gown and other elements of your décor.
To incorporate pink and burgundy into your décor, attire and accessories, consider the following ideas:
Dress your bridesmaids in pink and your groomsmen in burgundy to balance the colour theme without making their outfits look too outlandish. Alternatively, have all of the adults in your entourage in one colour, and the flower girl and ring bearer in another.
Serve pink cocktails with deep red cherries and burgundy umbrellas as welcome drinks for your guests.
Let your pink and / or burgundy shoes peep out from beneath your dress, especially for photographs.
Accessorise with pink and burgundy hairpieces, fascinators, jewellery, waistcoats and other smaller items for continuity.
The ideal flowers for this theme are roses, oriental lilies, calla lilies and Barberton daisies.
Pinks are readily found in the different candies available. So, present a candy buffet of pink and burgundy sweets in big glass jars. Pink eats may include marshmallows, coconut ice, cupcakes, wafers, lollipops, ice cream, and berry smoothies.
Original images and their credits available on Pinterest