Pink and Purple Weddings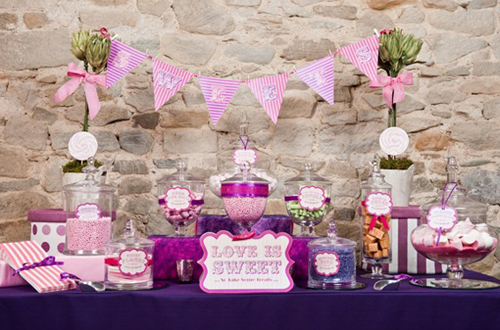 The feminine colour combination of pink and purple is great for spring, which is just around the corner. The purple is dramatic and intense, juxtaposed by the girly pink, a naturally simple shade. You may use dark purple, mauve or lavender with cerise, powder pink or candy pink. Your colour choice and combination depends entirely on your personal preferences. However, you need to keep the feelings and tastes of the men in your bridal party in mind. They may not feel entirely comfortable with wearing pink, which might convince you to use a darker, slightly more masculine, shade of purple for their attire.
Another influencing factor is your complexions. Pink and purple do not suit everyone and may make you look washed out, pale or overly pink. To ascertain whether or not the colours suit you, wear t-shirts of the exact shade you're considering for your wedding and take photographs of one another in various lighting. In this way, you'll see exactly how the colour affects your natural complexions and how you will look in your wedding photos. Remember that make-up may also play an important role in this aspect.
Pink and purple flowers are very easy to source, and will go a long way in establishing your theme. Consider roses, irises, hydrangeas, lavender, carnations, lilies and Gerbera daisies.
For more inspiration, look at our pink and purple wedding gallery.
For more ideas on Pink and Purple Weddings or to check out the original photos displayed above and their credits, make sure to check out our Pink and Purple Pinterest board!