Pink and Yellow: Vibrant Inspiration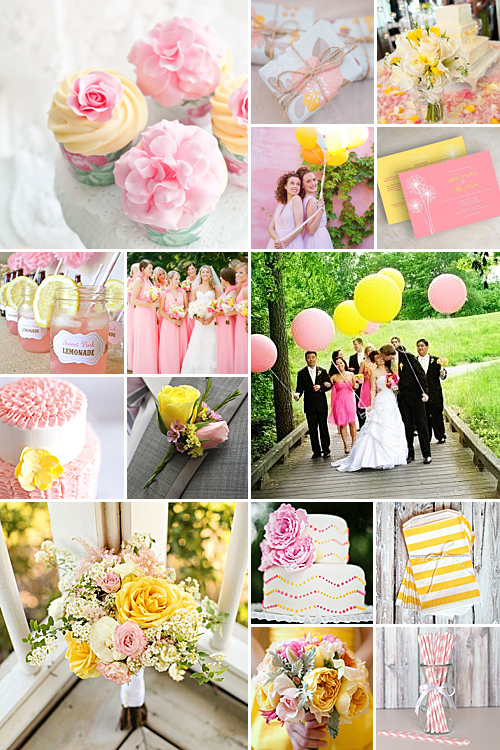 The combination of pink and yellow can be used in the pastel, bright or neon versions of these two shades, depending on your desired look and feel.  A pastel combination is feminine, soft, elegant and muted. Bright pink and yellow is a vibrant option that remains chic and classy, while neons are funky and adventurous. Whatever shade of one of the colours you choose, be sure to choose the same kind of the other colour (that is, neons with neons, pastels with pastels, and so on).
Whether pastel or bright pink and yellow, this colour combination occurs frequently in nature. There is a plethora of floral blooms in a number of different pinks and yellows. These grow wild in the South African bushveld as well as in pristinely manicured gardens, making them versatile and easy to source for your big day. And the most beautiful sunrises and sunsets are characterised by luminous pink and yellow hues.
In addition to using pink and yellow in the traditional aspects of your attire and décor (e.g. bridesmaid dresses, overlays, and so on), try the following ideas to enhance your colour theme:
Yellow and pink are common colours for candy. So, set up a sweet candy buffet with plenty of pink and yellow treats for guests to sample and enjoy.
To balance your colours in your bridal entourage, dress the bridesmaids in predominantly pink and the groomsmen in predominantly yellow.
Serve strawberry and lemon smoothies or cheesecake, garnished with the fresh fruits for added impact.
For gorgeous cocktails, pair pink grapefruit juice with vodka, lemon syrup and a lemon wedge.
For a tasteful wedding cake, try not to include too much of both colours. Rather, choose either pink or yellow as your predominant or only shade for this purpose.
Original images and their credits available on Pinterest