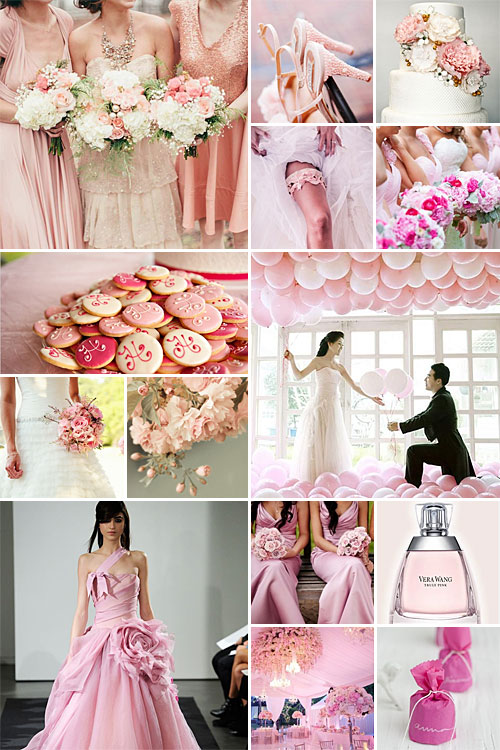 Pink is often considered to be only a feminine colour. While it is true that it is soft, elegant and sweet, pink can definitely be used quite effectively as a gorgeous, romantic wedding colour theme; without excluding the groom or making it feel like a girls' tea party. In fact, different kinds of pink convey different sorts of themes and feelings. For example:
Baby pink – very girly, sweet and young
Hot pink – fun, modern and cheeky
Dusty pink – vintage appeal
Dark pink – classic and formal
Neon pink – trendy, young and whacky
Therefore, the most important part of your pink wedding theme is to decide exactly what kind of pink you want, and then stick to it. By not keeping it standard, you will only confuse the theme and decrease the WOW effect.
Some fun ideas for your pink-themed wedding include:
Carry a ball of pink candyfloss down the aisle instead of flowers.
Use pink diamonds and diamante in your jewellery.
Put pink netting under your white wedding skirt or dress for a splash of pink as you move.
Create centrepieces from tall glass columns filled to the brim with pink marshmallows.
Pink balloons will add to the feminine, fun look of a pink wedding.
Pop pink champagne for the toasts.
To keep the groom and groomsmen looking masculine, opt for plain black suits with only a pink bowtie, or vibrant pink socks.
Wear pink ballet pumps instead of heels (they're easier to dance in too).
Pink candy buffets can be really fun. Include candyfloss, pink candied nuts, marshmallows and pink musk pellets.
Original images and their credits available on Pinterest