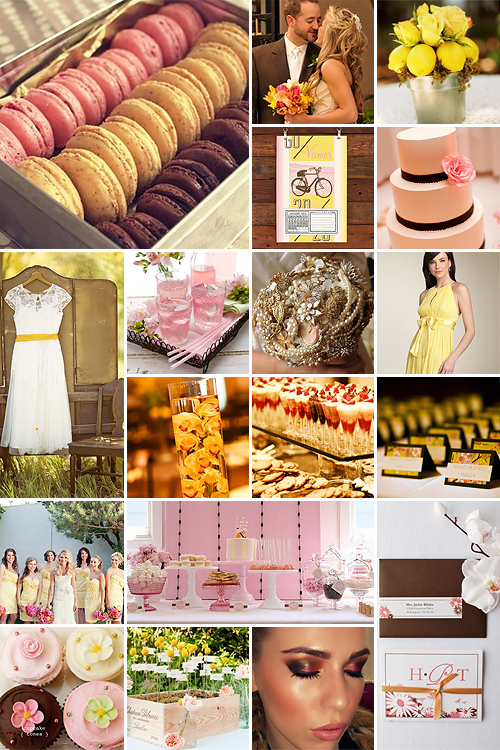 This season pastels are more popular than ever before and for the first time in almost forever, brides are moving away from two-tone themes and choosing colour schemes that consist of three colours or more. This lovely combination of pink, yellow and brown is reminiscent of an ice cream parlour, making it the ideal spring/summer 2013 theme.
Generally, when you have a tricolour theme, the safest option would be to pick one as your main theme colour and apply the other two as accent colours. But then again, rules are meant to be broken…
Firstly, for dessert:
A strawberry, chocolate and custard or banana milkshake or gelato bar is definitely a must. There's nothing like a triple scoop rainbow cone to bring out the child in you!
Serve macaroons in your theme colours – for example a combination of raspberry, lemon and coffee-flavoured macaroons.
Opt for a marble or layered wedding cake in these three flavours.
Serve chocolate cake or mousse with vanilla custard and strawberries.
Create an eye-catching candy table using all sorts of sugary sweet treats in these theme colours.
Dainty & Delicious Décor:
Combine soft pink peonies, roses and proteas with yellow roses or gladiolas and brown twigs and branches.
Opt for lighting with a yellow or rose undertone to set a warm and cosy ambiance.
Instead of the expected white table cloth, hire dark wood tables and decorate it with a simple yellow or pink table runner.
We're loving the coloured crockery trend – just imagine the lovely contrast between pink dinner plates and yellow side plates!
Incorporate brown into your table décor by means of wooden elements, such as platters, serviette rings and coasters.
Attention to Attire:
Consider dressing the grooms men in light pink or yellow shirts.
If you're planning a slightly rustic, country-style wedding a brown blazer might be just the way to go.
Either dress all bridesmaids in a similar colour (your main colour) and add splashes of the other two colours – shoes, jewellery, and so forth – or go the colour blocking route.
To create a fun contrast, ensure your bridesmaids' dress colours contrast with their hair colour, for instance a brown dress for the strawberry blonde, a pink dress for the golden blonde and a yellow dress for the brunette.
Pastel coloured jewellery is very much in fashion this season so jazz up your wedding ensemble with a pink, yellow or chocolate statement piece.
Choose soft flowing fabrics to complement the softness of the colour palette. Think netting, lace and chiffon.
For more ideas on Pink, Yellow and Brown Weddings or to check out the original photos displayed above and their credits, make sure to check out our Pink, Yellow and Brown Weddings Pinterest Board!