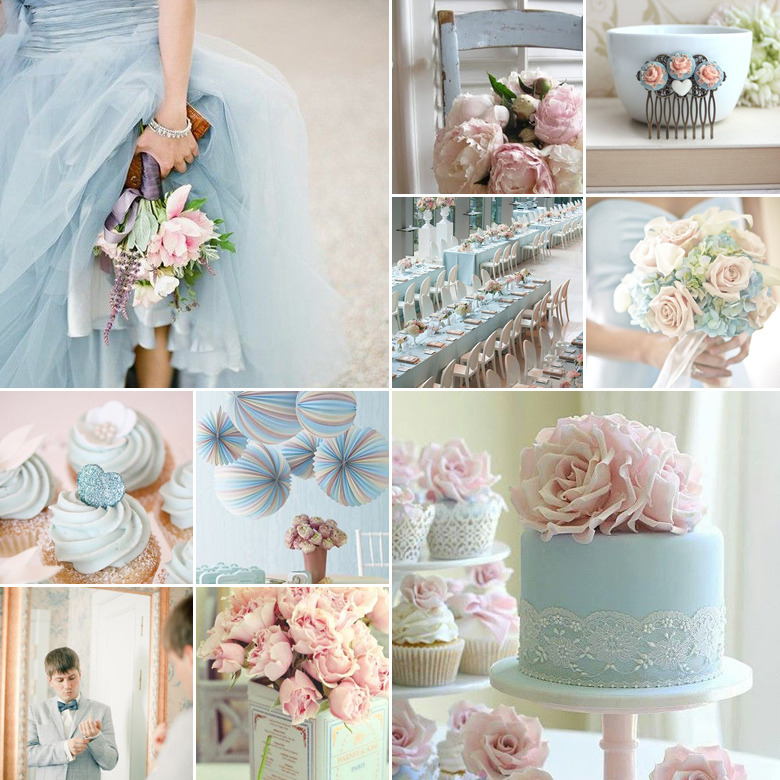 If ever there was the perfect "girl meets boy" setting, it would be bathed in this soft romantic colour scheme. Blush pink and powder blue are just the most sublime combination of colours, and we love it even more for the fact that it pleases both bride and groom.
In terms of flowers, you'll have no shortage of blossoms in the pink department. The trick is to stick to soft, cascading flowers that mimic the gentle whimsy of the colour scheme.  On the blue side, light hydrangeas are the perfect shade you're looking for as well as blue bells and cornflowers.
Another excellent way to play the two colours off against one another is in your bridal party's attire. For instance, dress the bridesmaids in pale pink gowns and the groomsmen in dashing light blue blazers. Alternatively, why not push the envelope and shake it up by dressing the girls in blue and the guys in pink shirts.
Here are some other ways in which powder blue and pink can be displayed side by side:
Serve desserts that are as dainty and delicate as the colour scheme – for instance powder blue and blush pink macaroons, petit fours and cake pops.
Instead of white or yellow lighting, bathe the venue in soft pink and blue lighting – changing between the two as the night progresses.
Introduce hints of colour into an otherwise crisp white table setting with light pink and blue glassware, as well as quirky coloured crockery.
 Original images and their credits available on Pinterest