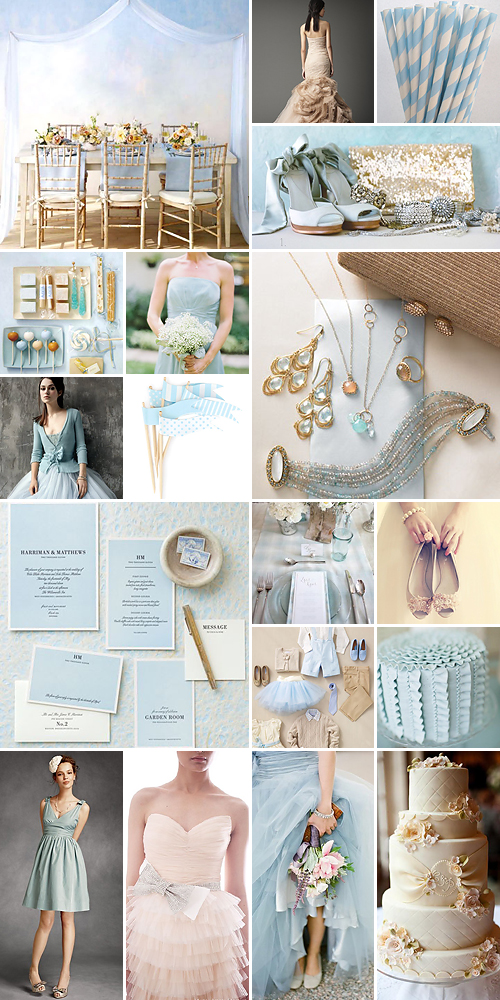 There's really no better way to describe the essence of this colour scheme than with a soft content sigh. Powder blue and nude is one of those classic and ensembles that never seems to go out of fashion – ideal for timeless wedding pictures.
This soft combination of neutral and pastel is reminiscent of early morning – soft, fresh, untainted and tranquil – which sets the tone for the entire reception and wedding celebration and automatically puts your guests in a relaxed frame of mind. What we really love about this colour scheme however, is how it's soft and elegant without being overly feminine, so you won't have much of a hard time getting the groom and grooms men into their dashing attire.
Both colours are pretty easy to come by and before you know it the wedding will plan itself.
A nude wedding gown or bridesmaids dress is simply lovely against bronze summery skin, however it might make you look washed out if you're of a pale skin tone.
Nude tone shoes will never go out of fashion and due to the simplicity of the colour, you can definitely opt for a more extravagant shoe design.
Opt for light coloured blue glassware and vases, set against a nude linen table cloth.
Flowers available in this colour scheme include nude roses, renunculus and dahlias, and light blue delphiniums, carnations, blue bells, orchids, calla lilies and tulips.
Add light gold accents to warm up the combination, or silver for a winter wonderland type ambience.
Coloured crockery is a sizzling trend of the season, so combine powdery blue plates with nude coffee mugs and napkins.
Keep the cake simple by choosing nude-coloured caramel frosting and adorning it with tiny blue details such as fondant flowers, perspex cake toppers, mini cake bunting, and so forth.
Spoil each bridesmaid with a pair of aquamarine or light blue topaz earrings, and nude or light blue ties for the grooms men – super stylish!
For more ideas on Powder Blue and Nude Weddings or to check out the original photos displayed above and their credits, make sure to check out ourPowder Blue and Nude Theme!