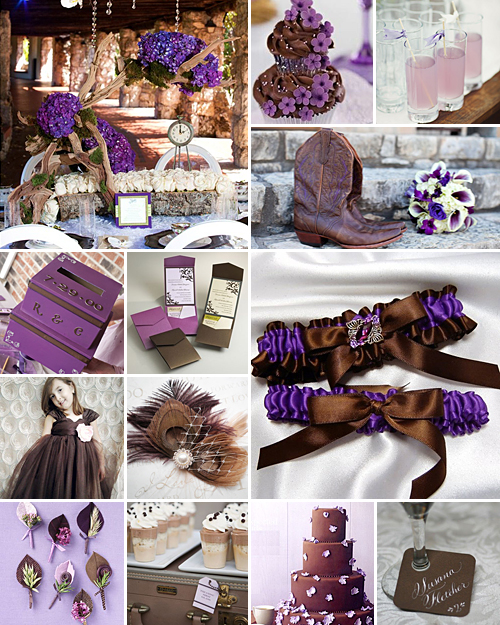 Purple is a trendy colour that emerges quite prominently in the fashion fields on a regular basis. It can be modern, funky, eerie or ultimately elegant. The different 'faces' of this versatile colour depend largely on the shade of the purple used. Brown is also modern, chic and trendy as well as ultra diverse. The colour combination of these two hues aptly balances the masculine and feminine sides of the bridal couple.
Brown and purple is also a colour combination that is frequently found in nature. Bark and wood coupled with vibrant purple or feminine lilac blooms; this pairing continues to give each unique couple a look and feel that is ideal for them.
To integrate purple and brown into your wedding day and theme, try the following:
Tie bare twigs (i.e. no leaves on them) and sprigs of lilac lavender together as bouquets, floral centrepieces and design elements at each table setting.
Cadbury's™ chocolate, which is a deliciously rich brown colour, has the advantage of an opulent, royal purple branding – perfect for guest favours.
Use a lush arrangement of vibrant purple irises as the bridal bouquet and tie them together with a deep chocolate-brown ribbon.
Get the groom and his entourage to don brown suits with purple waistcoats, ties, cravats or bowties. If the suit is a lighter brown, the purple should be too. Likewise, if you have chosen a rich, dark brown, keep the purple dark as well.
Choose cute brown or purple heels to peek out from under the wedding dress.
Serve chocolate milkshakes with lavender sprigs to garnish or hot chocolate with lilac-coloured marshmallows on top.
Original images and their credits available on Pinterest