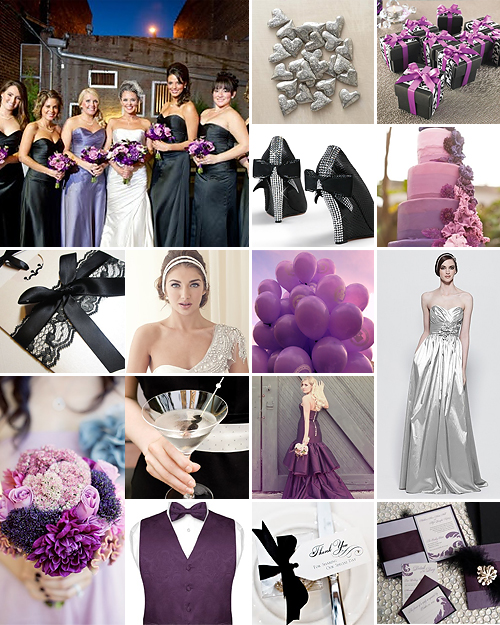 A hugely dramatic colour theme; purple, black and silver is simultaneously mysterious and glamorous. It encourages you, as a couple, to express your unique style and taste, and to indulge in a daring colour theme for your big day. Opt for this colour combo only if you are both comfortable with it, as it is adventurous and conveys a creative aspect of your respective personalities.
Because black, purple and silver are so dramatic, this colour scheme works best for a really glitzy evening wedding. Guests are sure to be completely taken in and seduced by the spectacle created by this magical, ethereal theme.
Purple comes in a number of shades, and this theme works well with just about all of them – from a dainty lilac to a deep royal purple. Because the purple and black and both quite intense (particularly if you go for a dark purple), the silver should be light and bright to set the threesome off stunningly.
Here are some more ideas for your inspiration:
Black and purple ostrich feathers in your bouquet and floral arrangements are as dramatic as the colour scheme.
Keep your jewellery silver (or white gold) with plenty of diamond sparkle to 'lift' the look.
Be extra bold when it comes to the little extras that make your outfit pop – accessories and embellishments can be really dramatic whilst not overwhelming your entire ensemble.
Brides that want a very different wedding gown that is still feminine may have a lilac one and not compromise on this theme.
For more ideas on Purple, Black and Silver Weddings or to check out the original photos displayed above and their credits, make sure to check out our Purple, Black and Silver Weddings Pinterest Board!