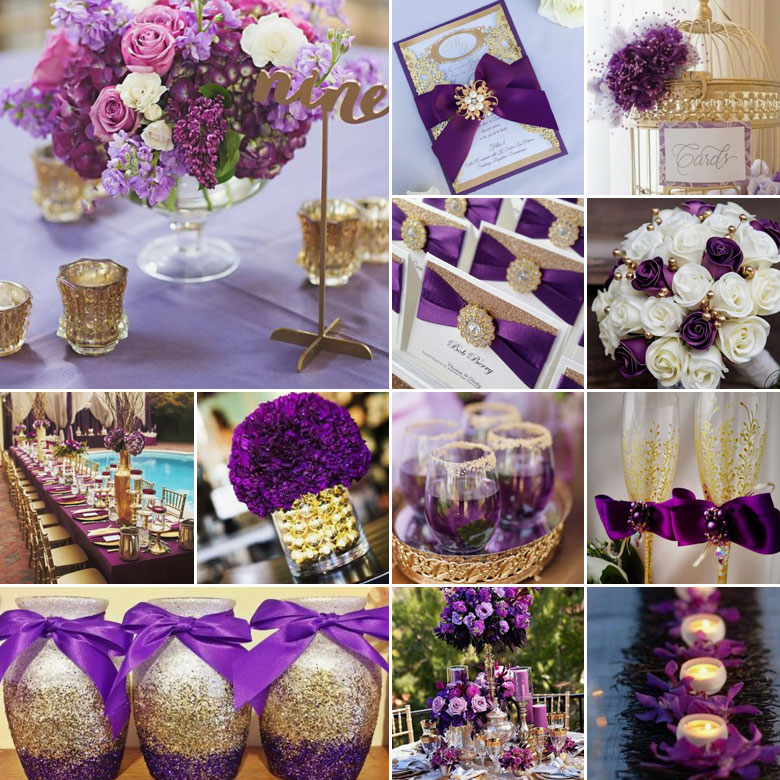 We haven't really been making a secret of the fact that we love gold! This time around we say, bring on the purple too – because this regal combination is guaranteed to make you feel like royalty on your special day.
Think bold and bright – draping your tables in purple with gold table runners. Then again, why not go all out with gold chairs and candelabra, and purple mood lighting? The goal is to really make a statement and wow your guests, so leave no stone unturned.
Purple also works beautifully alongside white, so you don't have to compromise on your dream wedding dress. Choose purple gowns for your bridesmaids, and complete your own killer ensemble with a pair of stylish purple heels.
While we don't suggest dressing hubby in a bright purple suit, there are other options like deep plum and charcoal that complement the theme beautifully. This can then be complemented with a purple tie, just to tie it all together (see what we did there?)
You can also apply the colours in other interesting areas on the day, for instance by serving delicious purple drinks in gold rimmed glasses or decorating the tables with golden trays of purple fruit and flowers.
Original images and their credits available on Pinterest