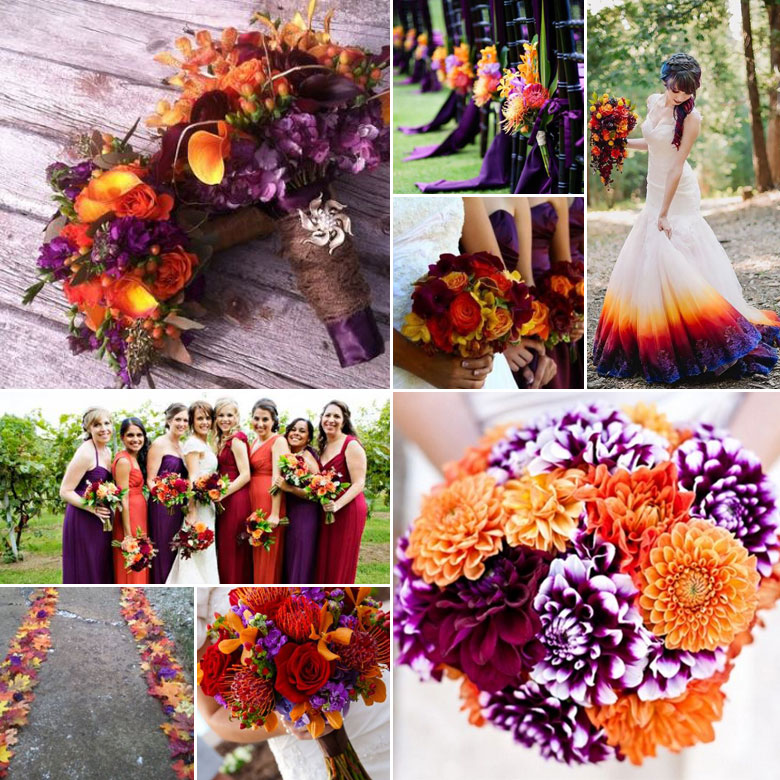 No matter what time of year you're planning on hosting your wedding celebration, this colour scheme is always on point! Combining deep burgundy, summery orange and vibrant purple, this theme strikes the perfect balance between all four magical seasons. Add a touch of green, and you're definitely on your way to colourful success!
There are endless ways to combine these colours on your wedding day, bearing in mind that it's not always necessary for all three to appear together at all time. For instance, you can opt for burgundy and orange bouquets, which will pair beautifully with purple bridesmaid dresses. The groomsmen on the other hand can strut their stuff in burgundy suits – you'll be surprised how stylish it looks!
If you're as bold and daring as your colour scheme, why not say "goodbye" to the traditional white wedding gown, and incorporate touches of burgundy, purple and orange in the design? This can be as simple as sewing fabric flowers onto your dress, dip-dyeing the hem, or topping off your dress with a colourful petticoat.
Other areas where this colour scheme can be beautifully portrayed include your wedding confetti, venue lighting and even the menu! Serve scrumptious roast vegetable salads in the colours of your theme, and complete the meal with a slice of red velvet, blueberry cheesecake or carrot cake.
Original images and their credits available on Pinterest