Red and Camel Weddings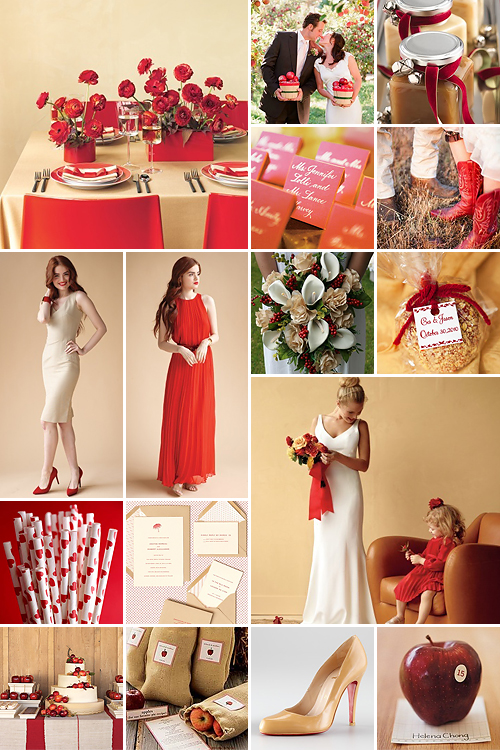 With bushveld weddings being all the rages these days, it's no surprise that camel is back... but with the kind of sexy twist that you'd only expect from Carrie and the gang. Paired with splashes of rich red, this once bland colour is definitely a must, regardless of whether you tie the knot on savannah plains or beach sand.
With its rich and warm undertone, this unique colour scheme is simply ideal for all those upcoming winter weddings which are being planned as we speak. While red flower choices might be endless, autumn and winter narrows the options to a certain extent which is we challenge you to veer away from flowers this time around, and push the boundaries with camel-coloured wheat ears, berry branches and red autumn leaves.
While creams and beige might not sit well on fair-skinned brides or bridesmaids, camel just seems to work, especially when paired with sexy red lips, shoes and nails – ooh-la-lah! The groom on the other hand would look nothing short of dashing in a camel suit, which is a much better choice for the bushveld climate as opposed to a jet black suit.
For the photoshoot, think of possible red and camel combinations – for instance, spread out a red picnic blanket on a sand dune for a romantic picnic shoot, or head out into the wheat fields in your little red vintage automobile. And if that cute little wedding car has camel-coloured leather seats, all the better!
In terms of table décor, you can't go wrong with simple camel linen or burlap, for a more country feel, decked with red accents such as glassware, chandeliers and napkins. Also play around with camel-coloured clay jars and terracotta, and break away from the traditional by opting for red or camel chairs. We'll probably never tire of colourful dessert tables, so bring out the caramel ice cream, berries, waffles and camel-coloured pastries for a true camel and red affair.
For more ideas on Red and Caramel Weddings or to check out the original photos displayed above and their credits, make sure to check out our Red and Caramel Pinterest Board!