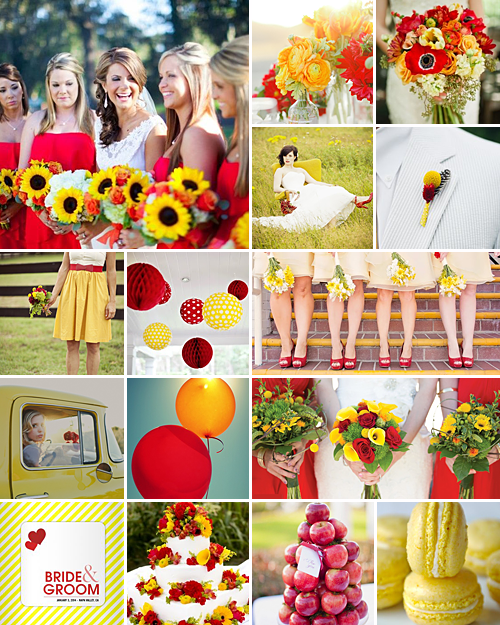 A red and yellow colour combination is vibrant and fresh, conjuring up images of magnificent sunrises and sunsets. Both of these colours are found in abundance in nature, making them ideal for outdoor weddings as well as for more formal affairs.
As is true of using any bold colour combination in your wedding, the key is to ensure that the colours are used in the correct proportions. Use plenty of white as a base colour and add splashes of red and yellow. This will actually make the red and yellow elements stand out more and be more effective on the day and in your wedding photographs.
Implement your red and yellow wedding colour theme by considering some hints, tips and suggestions:
Yellow and red flowers are abundant and easily available. Floral arrangements are a great way to introduce your colour theme with very little effort. Great options include sunflowers, roses, gerberas and lilies.
Serve mini hotdogs as starters, laced with plenty of red tomato sauce and yellow mustard, just for fun.
Pair cute knee-length yellow dresses with gorgeous red heels for your bridesmaids' attire or vice versa.
Use sunset imagery in the design of your wedding invitations and other wedding stationery.
Wear rubies and amber to bring the theme into your jewellery.
Original images and their credits available on Pinterest