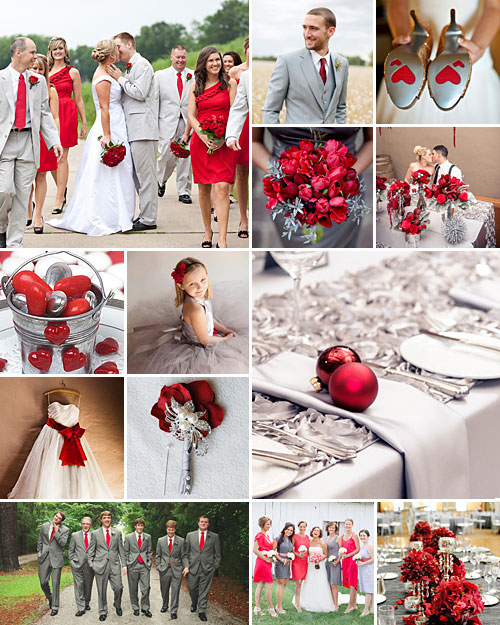 Red is glamorous and super sexy, while silver adds glitz and bling to any colour combination. Adding grey to the mix gives this colour theme complexity, and provides a more neutral base colour to balance the pizzazz of the red and silver.
The red, grey and silver colour theme is ideal for a really elegant wedding; a special treat for friends and family.
To implement this colour theme in your wedding, try to include the following ideas, or simply draw inspiration from them:
Replace your traditional white wedding gown with an elegant light grey creation. A light, flowy grey dress will, undoubtedly, exude an ethereal beauty all its own. Punctuate the dress with silver accessories and features, if desired.
Dress the bridesmaids in vibrant red dresses with grey and silver accessories (such as shoes, fascinators and belts).
Whether the wedding dress is white or grey, wear red shoes and red gems or stones in your jewellery (rubies are a must).
Garnish your wedding cake or desserts with Maraschino cherries and sparkly silver edible glitter.
Add silver-sprayed twigs to your bouquet of red blooms.
Serve a deep-red wine in pewter goblets.
Original images and their credits available on Pinterest