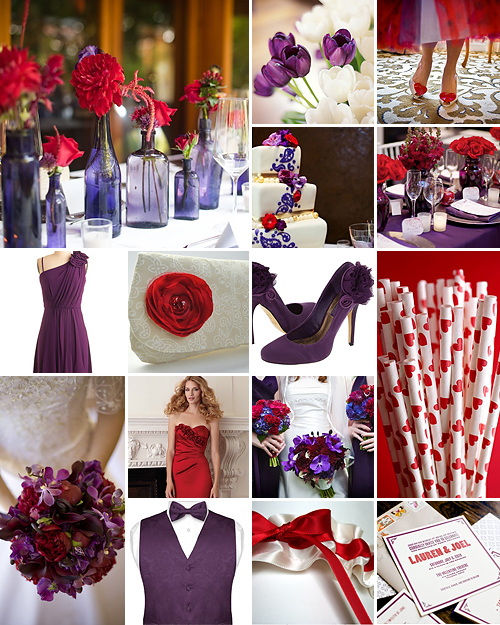 Red is the colour of love and purple the colour of royalty. Add a dash of white, and boy are you in for a royal and romantic treat! This vibrant colour scheme is simply delicious on the eye, and the stark contrast between the various shades makes for a bejewelled and enchanting effect.
The trick to creating a strong theme, is sticking to a single shade of each colour. Even though you might be tempted to add lighter and darker shades of purple, the variation will weaken the overall impact of your colour scheme. Even when you're battling to find elements in that exact shade, try to power forth and stay true to your theme.
The one element that immediately springs to mind when you think red and purple is plump juicy berries. Place a bowl of strawberries, raspberries, blueberries and mulberries on each as an edible centrepiece. Plums and grapes can also work.
Create a brilliant colour contrast by dressing your bridesmaids in purple dresses with red shoes and red bouquets, or the other way around.
Choose purple ties for the grooms men with red boutonnières and/or braces.
Play around with your floral arrangements: While red, purple and white flowers of the same specie can be incredibly striking, a variety of flowers in these colours can create an interesting visual element.
Alternatively arrange red flowers in purple vases (and vice versa) for your table arrangements.
Create an eye catching candy table using only purple, red and white sweeties and treats.
Decorate the pearly white wedding cake with strawberries and mulberries/red and purple ribbon/red and purple flowers/red and purple sweeties.
Add tiny purple and red touches to your otherwise white gown, like a ribbon around the waist, coloured petticoat, hair detail, shoes and flowers.
Decorate your white linen clad tables with red and purple table runners and flower petals.
Place red candles in purple glass candle holders for dramatic and enchanting table centrepieces.
For a dash of fun, serve sugary red toffee apples wrapped in purple cellophane or a variety of berries dipped in white chocolate.
For more Red, Purple and White Wedding Ideas, the original images above and their credits, make sure to check out this Pinterest Board!