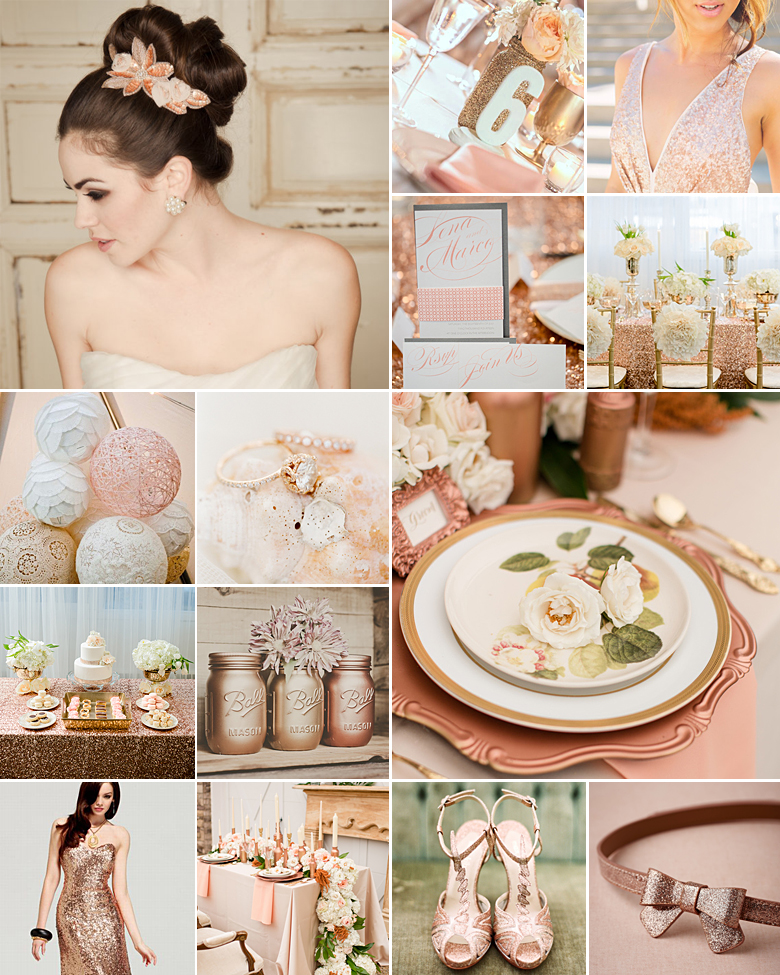 The last season or two, gold was the bling of choice and the bridal world fell in love with glitz and sparkle all over again. This year however, yellow gold is slowly being phased out by its lesser-known and somewhat more rustic sister, rose gold.
This striking metal is an alloy of yellow gold and copper, resulting in the unusual metallic rosy hue that's stolen our hearts. As with yellow gold, rose gold comes in a variety of hues and depths of shade; hence you have the option of either using your favourite from start to finish for striking consistency, or playing around with multiple hues to create depth and dimension. Aside from the rings, there are numerous ways in which rose gold can inspire your wedding day:
Metallic frosting is all the rage this season, so incorporate rose gold tones into the wedding cake design – whether in the form of small patterns or "plated" from top to bottom.
Dust rose coloured cupcakes, petit fours and macaroons with rose gold cake glitter.
Complete your bridal ensemble with rose gold jewellery and accessories, as well as shoes and nail polish for that extra touch of bling.
Rose gold sequins are easy to come by and are a convenient and affordable way to extend the theme without breaking the bank. You can even go as far as to use sequins as glittering confetti.
If you're the DIY-type, invest in a canister of rose gold spray paint and coat a variety of glass bottles with a metallic sheen for stunning homemade vases.
Complement the theme with soft rose-pink and cream coloured blossoms like peonies, carnations and roses.
Include subtle touches of rose gold on the guest tables in the form of rose-tinted under plates, chandeliers, table runners and rimmed glasses.
Original images and their credits available on Pinterest