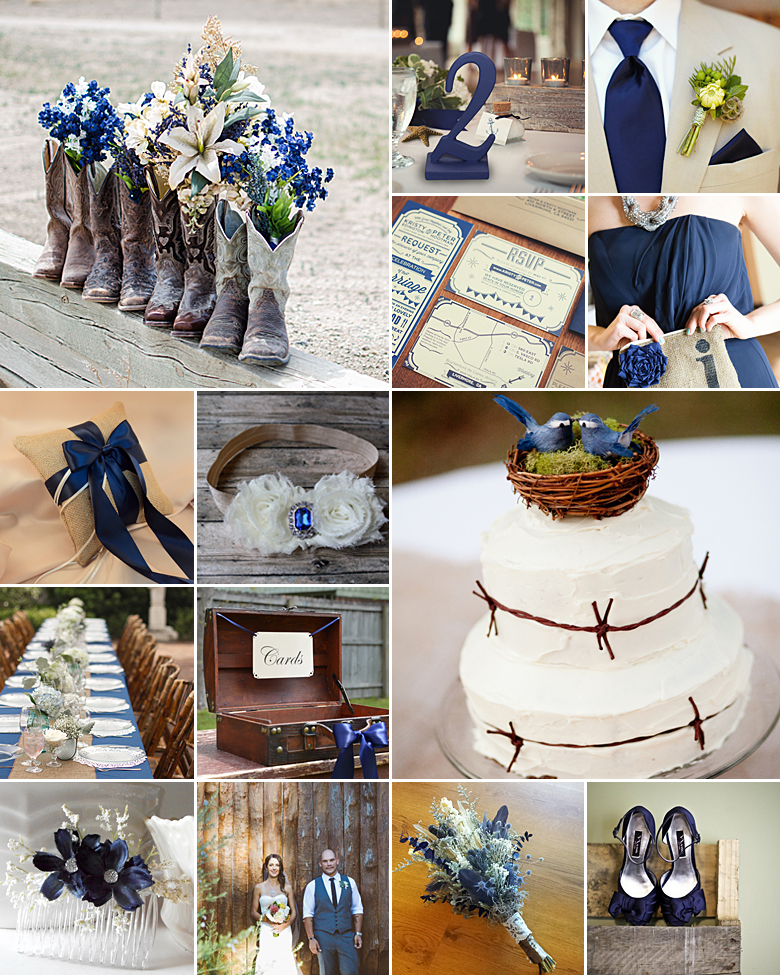 Navy is a colour that's generally associated with crisp nautical themes and breezy beach weddings, but this time around we're putting a more natural and rustic spin on this enchanting favourite. The trick to pulling off a rustic navy colour scheme with flair and grace lies not so much in the shade of navy that you use, but rather in the choice of elements and fabrics that you ultimately pair the colour with.
For starters, instead of using white as your base colour, opt for warmer tones like ivory, cream, beige and even champagne to give it that sense of homeliness. Other shades that you might consider pairing the navy with include neutral and natural colours like grey, sand, tan and other shades of brown, as well as crisp earthy greens.
Texture will play a major role in achieving just the right rustic look and feel, so play around with a combination of burlap, leather, raw cottons, lace and loosely woven materials. You can also experiment with softer and more whimsical fabrics like tulle, chiffon and netting (leaving the edges untrimmed and unravelled), as well as charming patterns like plaid and chevron. Steer clear of heavy and shiny fabrics that might clash with the rustic nature of the colour scheme.
Including natural elements in the décor is absolutely essential – examples of these include navy hydrangeas, wild blueberry vines, peacock feathers and succulents with a blue undertone. Vintage elements like navy cake tins and shutters, drawers and window frames in chipped blue paint can also add an extra dimension and charm to the overall theme.
Original images and their credits available on Pinterest