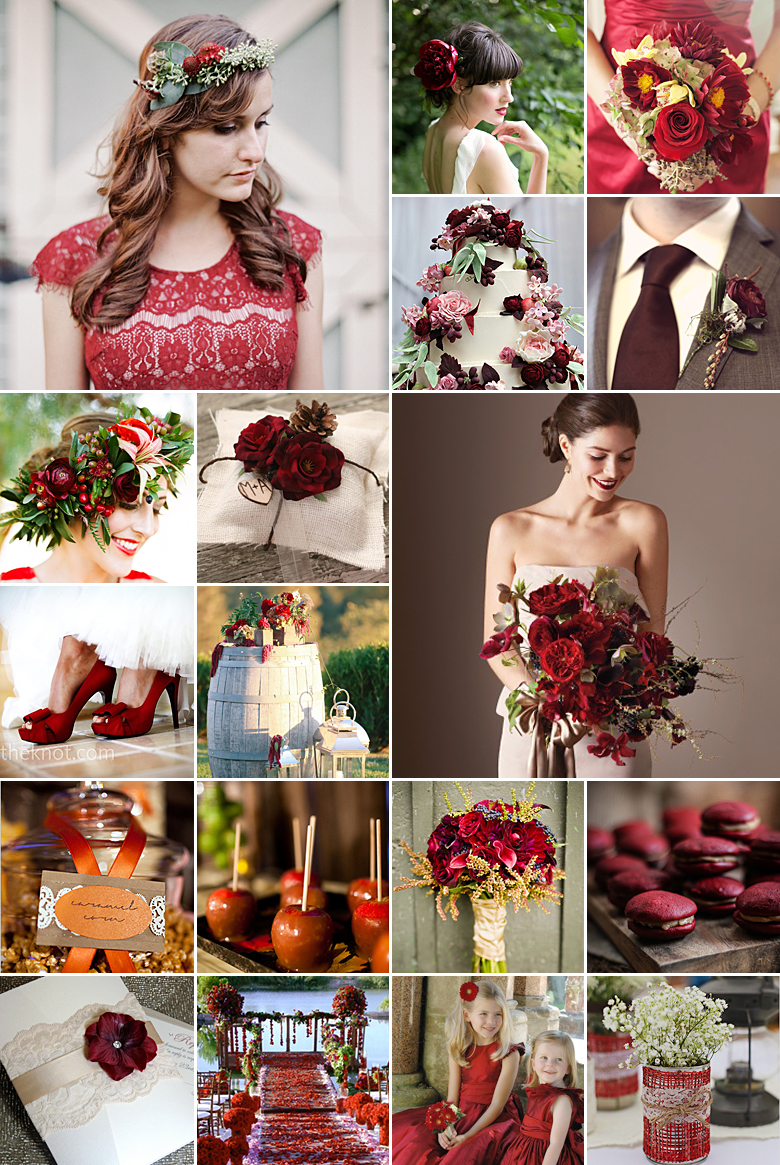 Deep, dark, mystical, warm, sensual, autumn-delicious red – a colour that gets the pulse racing and makes your cheeks glow in a similar shade of luscious red.  The trick to pulling off this dramatic yet earthy colour with a fair amount of flair and success, is to use it wisely, adding bold pops of colour rather than swathing the entire venue in deep red draping.
Rustic red is best complemented by other equally rustic autumn-inspired elements like raw unpolished wood, rusty metals, burlap, lace, wine barrels and hay bales. In terms of other hues and colours, consider pairing it with rich caramels, chocolate browns, olive green and hints of glittering gold. Here are a couple of ideas for making the most of this divine colour:
Ruby red apples fit this autumn inspired colour scheme just perfectly, so fill rustic little wooden crates with apples and place it on the guest tables, and serve toothsome caramel apples for dessert.
Oh darling, forget not the red wine! The autumn season certainly calls for a full bodied merlot or shiraz, so aside from adding a dash to the food, why not have a mini red wine tasting as part of the canapés?
When it comes to the main menu, think chunky red meats infused with autumnal spices and flavours and fresh salads packed with red peppers, roasted tomatoes and jalapenos.
For a grand evening occasion, why not go the regal route – plush red velvet couches, tables draped in heavy red fabrics of the finest quality and of course, a long red carpet.
Flowerwise, the options are virtually endless! Think deep red roses, calla lilies, peonies, gerberas, ranunculi and freesias, as well as wild berry vines and rich ruby red autumn leaves.
Original images and their credits available on Pinterest