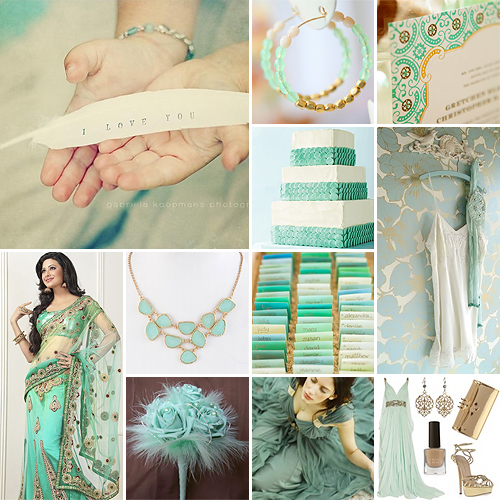 If this colour combination doesn't scream "mermaid", then really, what does? Sea-green and cream is really quite a striking combination yet still oozes soft elegance and sophistication. While one could substitute the gold for silver, gold has a way of truly complementing cream and adding a touch of warmth to an otherwise cool ocean inspired theme.
What's definitely to love about the colour combo is the fact that hubby-to-be will love it as much as you love it – that's a lot of love right there! While the colour scheme is perfectly suited to an informal barefoot beach affair (sea-green ocean, cream coloured sand underfoot and a golden sunset in the background), it'll be just as much of a hit at a high society evening celebration.
Drape your dessert table in a sea-green table cloth, and stick to cream coloured desserts with gold trimming for a truly eye-catching display.
Dress your bridesmaids in either sea-green or cream coloured dresses with gold accessories.
If you're a little daring, opt for a cream coloured gown yourself – not only are non-white dresses very much in fashion this season, cream flatters just about any skin tone, no matter how pale. And don't forget to add sea-green jewellery, such as Aquamarine or Amethyst.
Hang a sea-green and gold confetti bomb over the dance floor, ready to erupt when you take to the floor for your first dance.
Bathe the reception venue in sea-green light and hang gold chandeliers over each of the tables.
Use sea-green glassware and cream crockery on the tables – practical yet eye-catching statement pieces.
Choose cream coloured flowers like roses, lilies, peonies, hydrangeas, chrysanthemums or carnations for the centre pieces, or opt for foliage and succulents of a sea-green hue.
Serve lip-smacking cream liqueur with dessert and sea-green cocktails or shooters for those a little more bold and daring at heart.
For more ideas on Sea-green, Cream and Gold Weddings or to check out the original photos displayed above and their credits, make sure to check out our Sea green, Cream & Gold Pinterest Board!