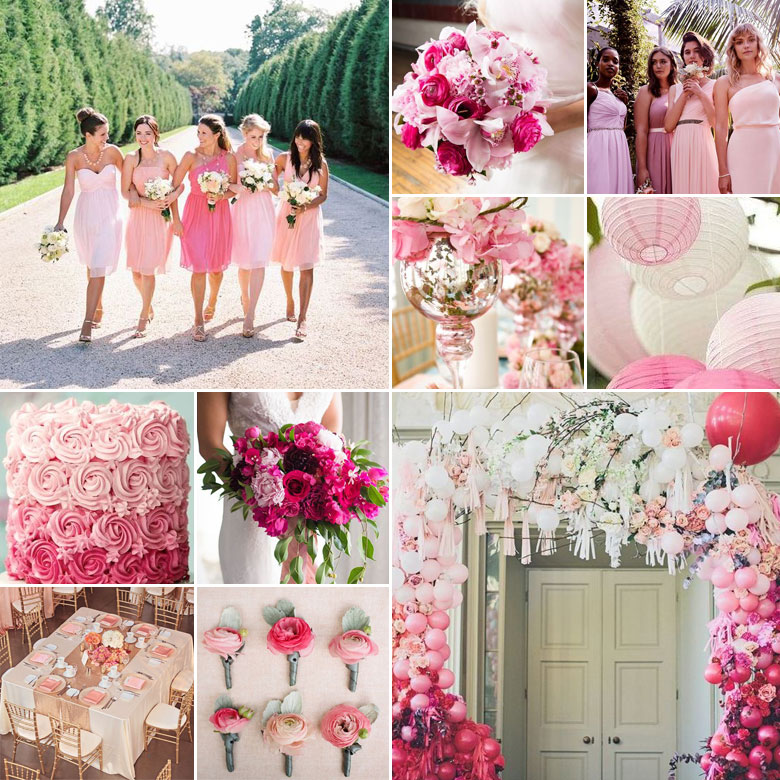 Girly-girls, unite! This delightful colour scheme is exactly what your dreams are made of. Combining every shade of pink imaginable, it's a deliciously feminine affair that you're bound to remember forever. Ombre is certainly at the top of the list, and you can have a lot of fun playing around with dark and light shades.
Believe it or not, shades of pink can have a soft yet masculine edge to it. Using white or cream as base colour, you can stick to using small stylish touches of pink instead, and work in a little grey, charcoal or black to break the pink. Then again, before you lose yourself in this colour scheme, be nice and run it past your hubby-to-be first.
But enough of that – let's look at sugary sweet pink ideas:
Opt for a pink ombre wedding cake, covered in dainty frosted rosettes, curls or flowers.
Ditch the traditional white gown, and choose a blush pink wedding dress instead.
Use your bridesmaids' dresses to really encapsulate and demonstrate the shades of pink theme.
Combine different shapes and shades of pink flowers to create visually striking centre pieces.
Bathe the venue in shades of pink lighting all through the night.
Original images and their credits available on Pinterest