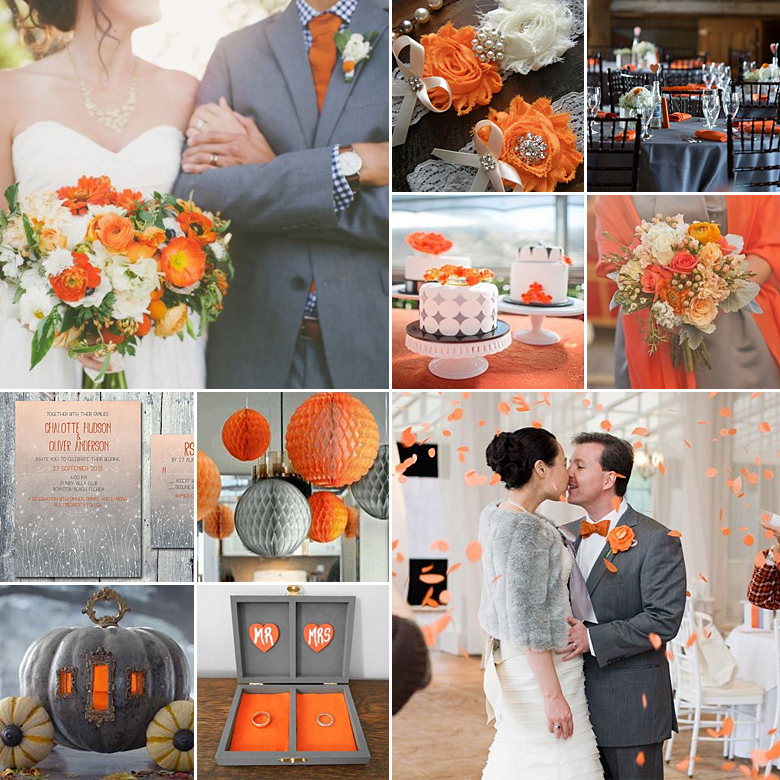 Bring on the harvest season! This rustic yet modern colour scheme oozes homeliness without compromising on sleek sophistication. We just love the combination of warm pumpkin orange and industrial slate grey, striking just the perfect balance between masculine and feminine.
Now to bring these two colours together in perfect unison, you're going to need to use a fair amount of imagination:
Serve a rich pumpkin soup as your starter, in slate coloured bowls of course.
Incorporate plenty of slate rock into your décor, as well as recycled metals and industrial style piping elements.
Soften the harshness of the slate with soft pumpkin coloured blossoms like lilies, roses, daisies, and so forth.
Choose slate-coloured suits for the groom and groomsmen, complemented by orange boutonnieres.
Dress the bridesmaids in white, and add touches of pumpkin orange to their ensemble.
Decorate the table with heavy silverware, and soften it up with candles that cast an orangey glow – not to mention orange lighting throughout.
For a more earthy touch, include dried grey branches in your bouquets and centrepieces.
Fill tall vases with orange candies, and wrap chocolates in dark grey-silver paper as guest favours.
Original images and their credits available on Pinterest