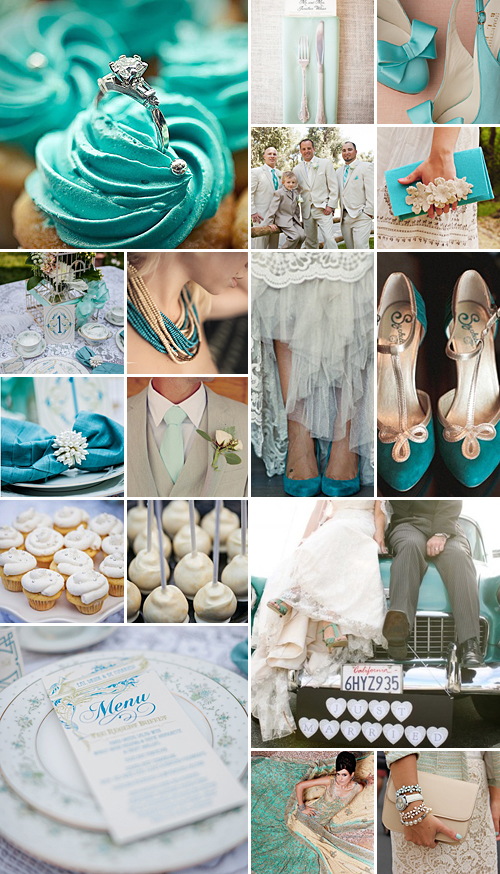 The first thought which comes to mind when considering this colour scheme is the silver sparkle of the turquoise ocean lapping onto beige stretches of sand. Of course, not everyone has the privilege of getting married in the Seychelles or Bahamas, but thankfully there are plenty of other ideas to recreate the tranquil elegance of a tropical wedding.
Use plenty of cream and beige coloured lace as well as burlap to decorate the tables, tie around the bouquets and drape over the buffet tables.
Light up the venue with turquoise lighting or strings of Chinese lanterns, and throw a silver glitter ball in the mix, just for laughs.
Add touches of silver to the table by placing mirrors underneath the table decorations and centre pieces and investing in quality silverware. Alternatively, use a variety of antique-like silver pots and vases for your beige floral arrangements for a real vintage chic appeal.
Use plenty of turquoise coloured glassware, and tie a little beige heart around the stem or slip a beige place card onto the rim of the glass.
Extend the tranquil nature of the theme by setting up a relaxing seating area with beige-coloured couches and turquoise pouffes and scatter cushions. Furthermore, place a mini Zen garden, with beige sea sand and turquoise pebbles, on each table.
Dress hubby-to-be in a beige suit – ideal for a relaxed summery wedding. Round off the look with a turquoise boutonnière or pocket square.
Opt for a beige-coloured wedding cake or caramel chocolate creation, with turquoise ribbon or flower detail. Then, when it comes to adding silver, play around with silver cake jewellery, cake glitter and vintage brooches.
For the original photos and their credits plus more Turquoise, Beige and Silver Wedding Ideas, make sure to check out our Turquoise, Beige and Silver Weddings Pinterest Board!