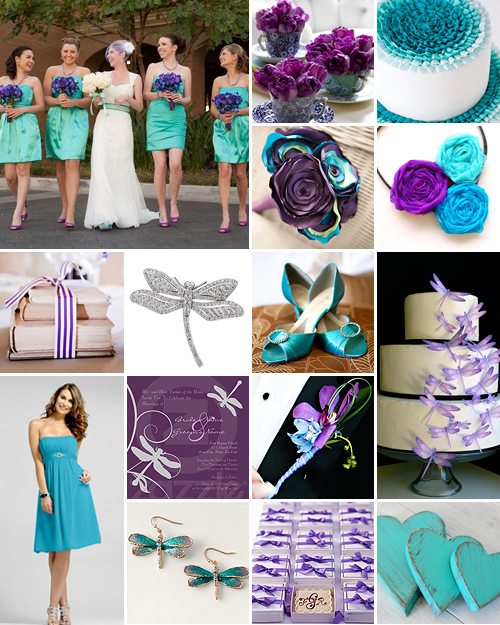 Combine the fresh vibrancy of a clear, bright turquoise with the deep intensity of purple to make your wedding theme colours just perfect. We love this combo when paired with a dragonfly motif, which just seems to give it that ideal fairytale appeal.
The dragonfly imagery can be conveyed in your invitations and décor, as well as in the embellishments in your hair and on your jewellery. This looks especially cute on your flower girls, so consider indulging them in turquoise and purple dragonfly wings for a really sweet touch.
This theme is great for daytime and outdoor weddings, because it is fresh and bright. When it is combined with a pristine white background colour, it gives an even cleaner, crisper look and feel to your wedding day, décor and attire. The more white you use, the more modern this theme will look.
The dragonflies dont have to be overdone to be effective. Dot them into your floral bouquets, at each place setting, and give tiny dragonflies to each of your guests as favours.
For more ideas on Turquoise, Purple and Dragonflies Wedding Ideas or to check out the original photos displayed above and their credits, make sure to check out our Turquoise, Purple and Dragonflies Pinterest Board!