Vintage Blue and Grey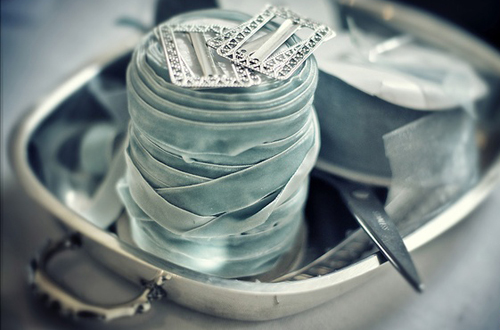 Our hearts are all aflutter with this subdued, romantic wedding colour theme. Vintage blue is a dull hue and has an undertone of grey. It is not vibrant or bright, and is beautiful in its muted nature. Grey goes perfectly with it and is a neutral shade, making it simple and easy to implement. This is perfect for a formal evening wedding or one with a winter theme. It is also a lot less feminine than many other popular wedding colour themes, so the gents in your bridal entourage are likely to feel much more comfortable. This is important. It is the groom's day too and, if he or his groomsmen are uncomfortable in their outfits, this will take away from their enjoyment of the event and will likely show in the photographs.
This is a really elegant colour theme and, even if you get quite adventurous with it, it remains stylish and exquisite. So, if you are a couple that enjoy the trendy side of life, consider sporting a grey or vintage blue wedding gown. If you prefer a more traditional approach, introduce these gorgeous colours in your jewellery and accessories.
The vintage nature of these shades, particularly the blue, may inspire you to carry a vintage look through your entire day. Use coloured glass, antique jewellery, old tea sets, and coloured lace to reinforce this theme effectively.
Have a look at our gallery for some ideas on this stunningly subdued colour scheme.
For more ideas on Vintage Blue and Grey or to check out the original photos displayed above and their credits, make sure to check out our Vintage Blue and Grey Pinterest board!